PEOPLE OF THE SOUTH
On my way from Washington DC to Nashville, Tennessee I drove about 2200 miles in 2 weeks. This trip gave me the chance to experience both - country and people. It seems that everything is about tradition and cars in the south. You will hardly find a village without a store for used tires or old pick up truck on the side of the road. Southern hospitality is not a cliché – it's one of the reasons that make the South one of my favorite places in the world.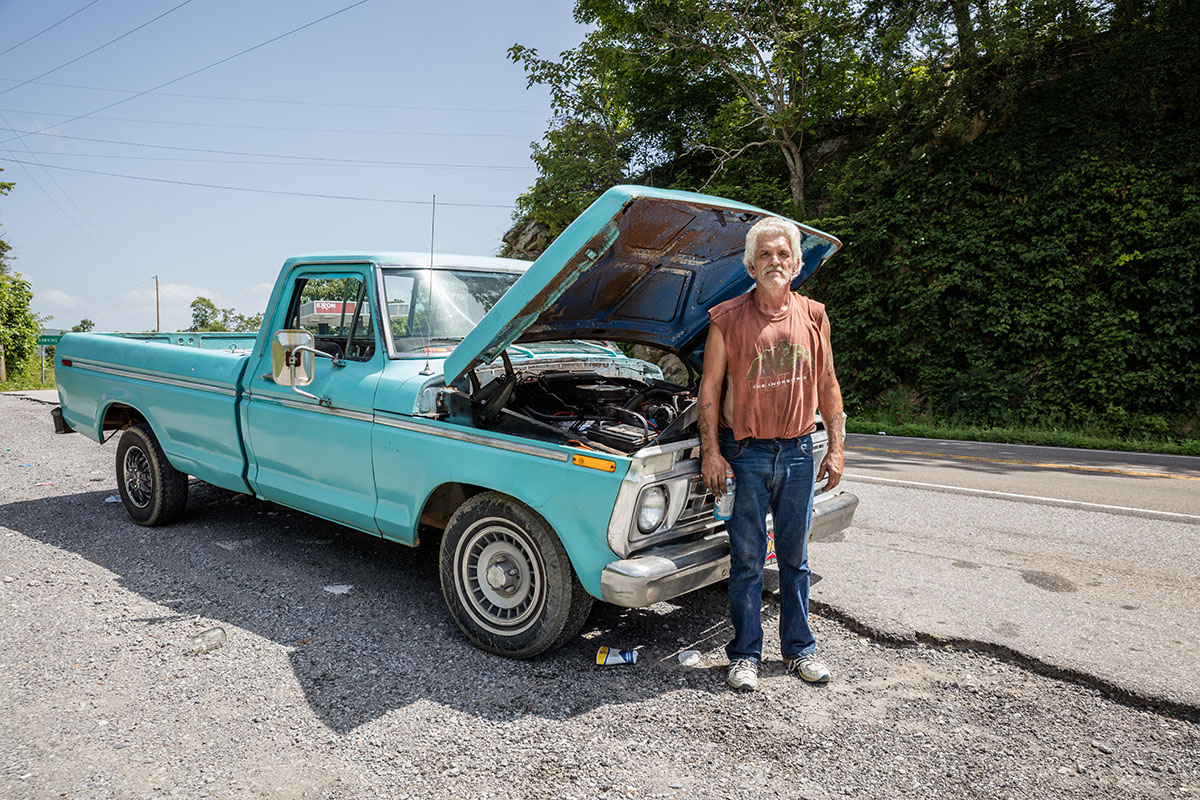 Kenny, Sneedville, Tennessee
K. had a flat tire and asked me if I could help him out with a phone. Since I was traveling and I didin't charge my phone I couldnt help him out. So I deciced that we get that flat tire off together so that I could drive him down to the village to get it fixed. Kenny has been driving his Ford truck for over 40 years. His number one band is Lynyrd Skynyrd and we were rocking out together on our way to the garage while we were listening to "Free Bird" turned up to 10 and had a cold diet Dr. Pepper. Thanks for a great story Kenny!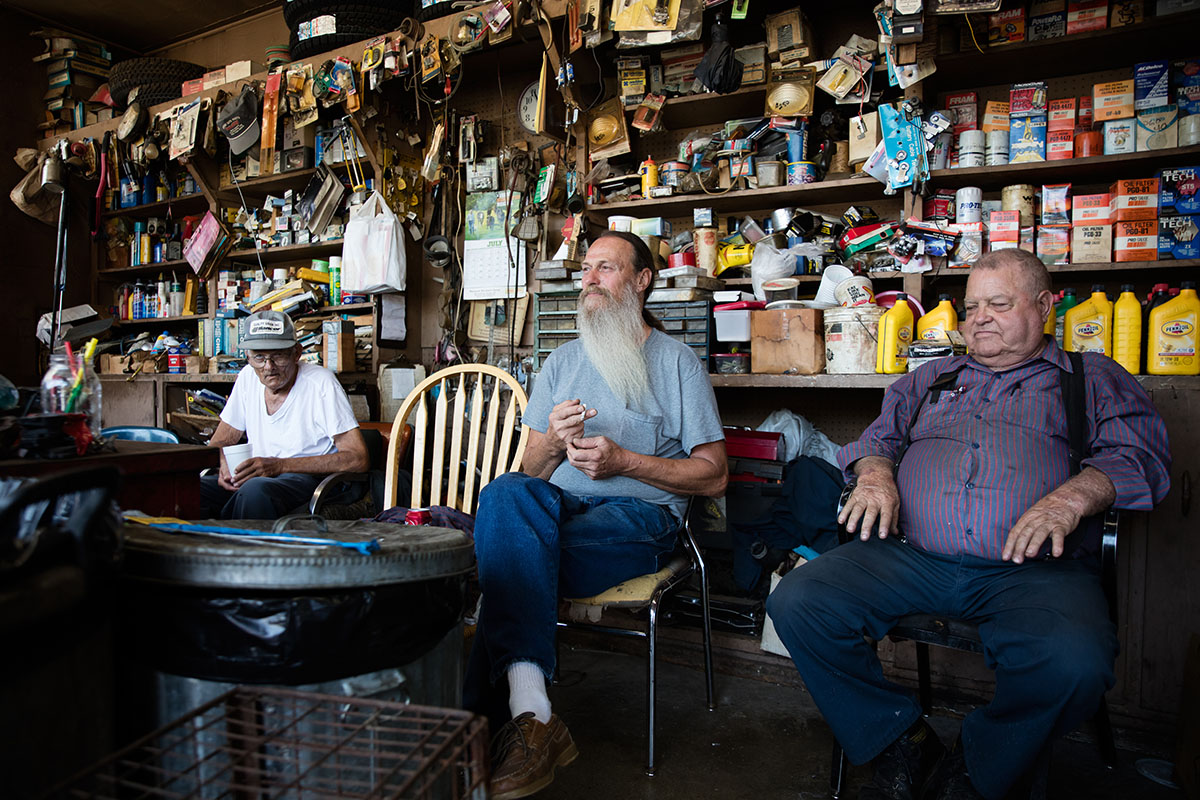 Sword's used cars, Sneedville, Tennessee
This is the whole crew of Kellis' "Sword's Used Cars" garage and a they are all good friends of Kenny (the guy with the flat tire). What a great experience to meet these guys. The beer I had there was for sure among the top ten in my life. The location was simply stunning. I thought it's a good idea not to mention ZZ Top because I really didn't know if they are into that kind of jokes.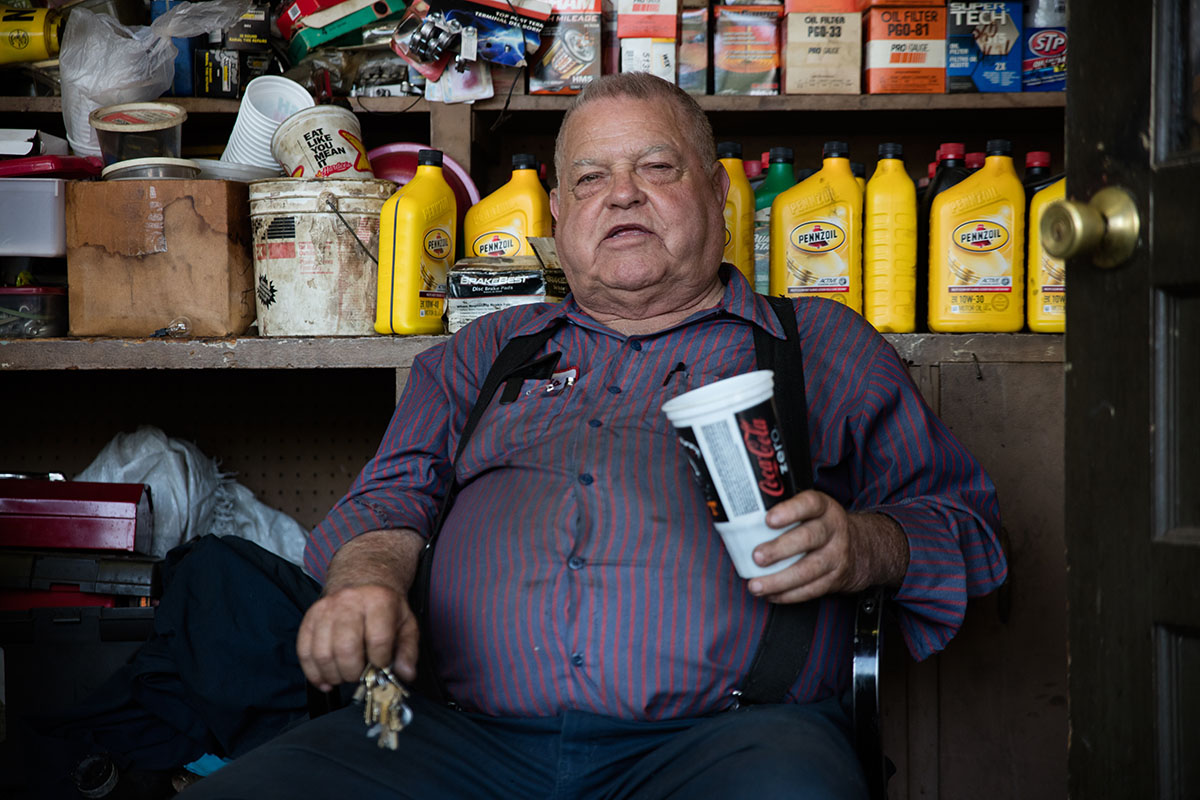 Kellis, Sneedville, Tennessee
Kellis is the boss at "Sword's Used Cars". I got there when I drove Kenny to get this flat tire fixed. In the beginning I was a bit unsure what to think of him 'cause he was playing with these keys the whole time and somehow it seemed aggressive to me. He turned out to be the nicest guy. After a short chat he even gave me his business card so that I could catch up with him if I should ever run into any trouble.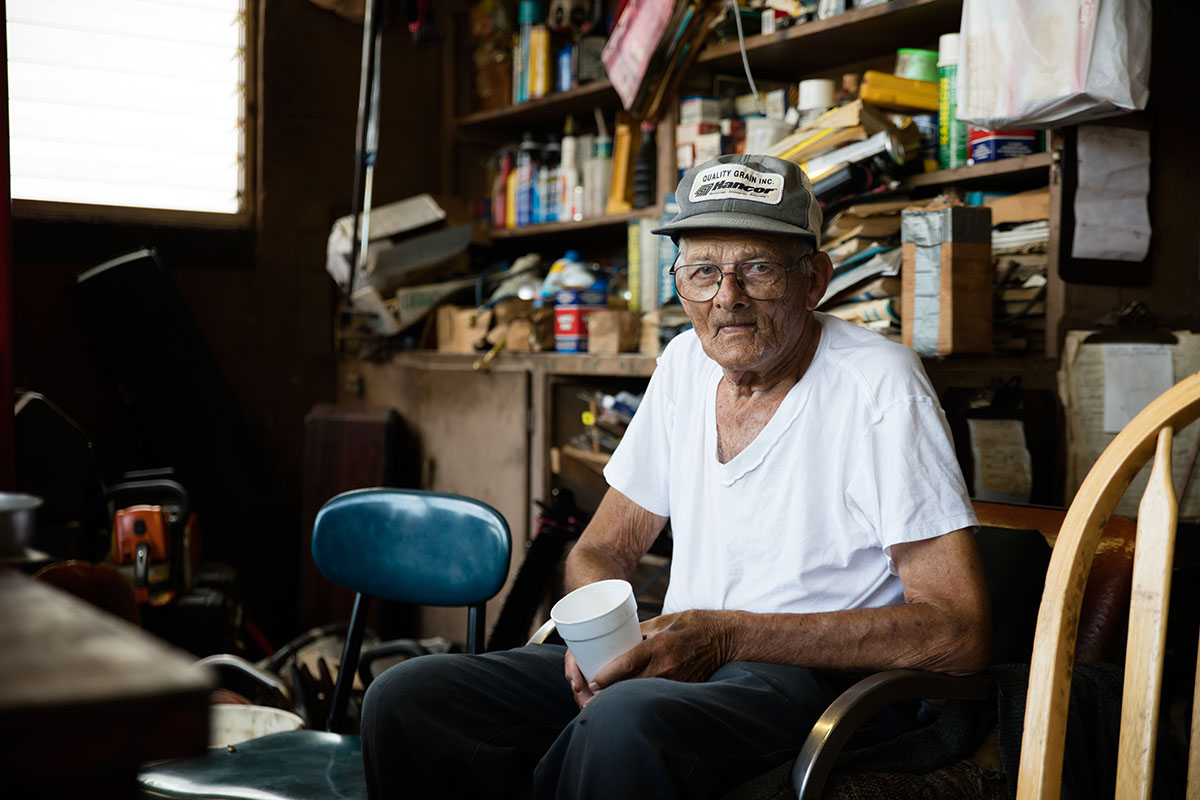 Sword's used cars, Sneedville, Tennessee

Remember when I met Kenny, the guy with the flat tire and the old Ford truck? When I drove him down to the valley to get his tire fixed we ended up at "Sword's Used Cars" in Sneedville. I don't know what this guy was called because he didn't say a single word while I was there. I also don't know what his agenda was in there - I guess he's been hanging around in this place for a really long time just sitting and drinking coke. From time to time he was chuckling a bit when the boss made fun of me. Anyway, it was a great place to be and fun people to hang out with and I felt like I was part of a Coen brother's movie. Keep up the good work guys!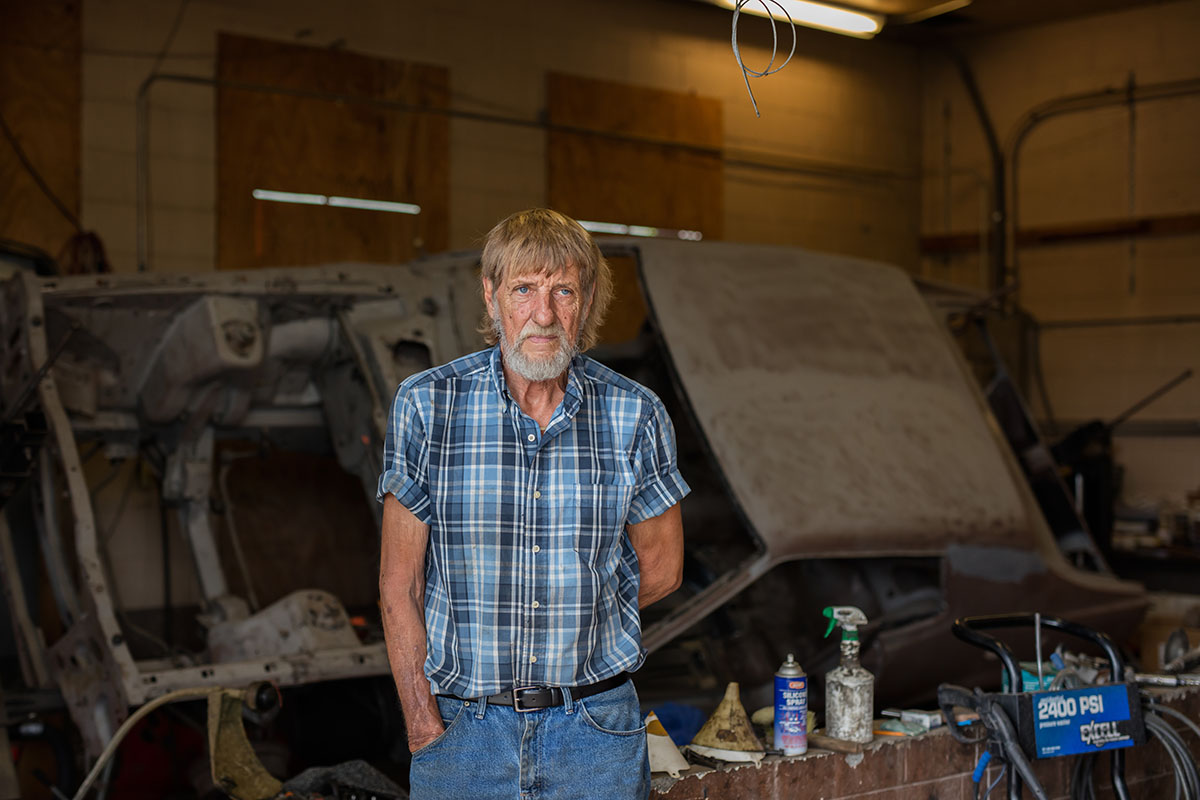 Matt, Wilkesboro, North Carolina.

I met Matt when I stopped on the side of the road to take photos of an abandoned gas station next to his garage. The Car in the back is a '71 Ford Mustang that he bought brand new when he was a young man. It was his first car and he kept it all the years until today. Now that he retired he's working on it to restore it. I wish I could see it when it's finished. All I know, it's going to be yellow like it was brand new.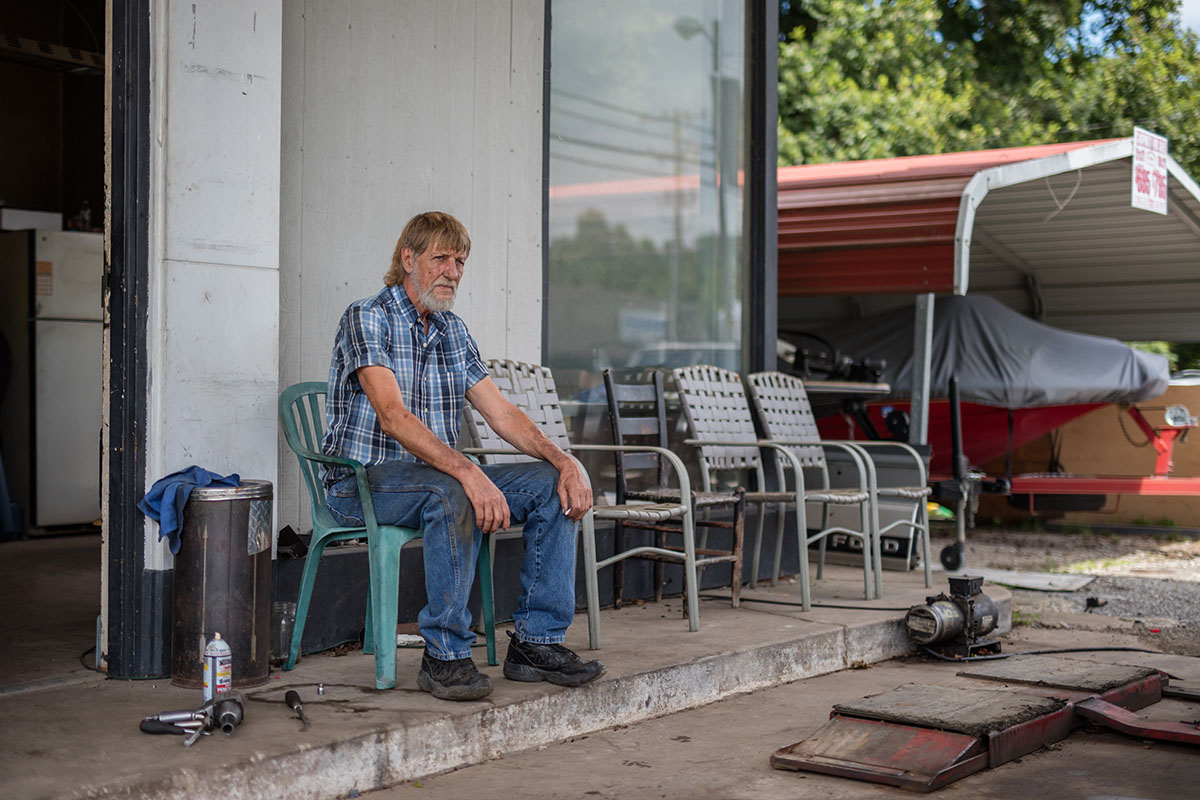 Matt, Wilkesboro, North Carolina
When I first came to Matt's place he was sitting there staring at the road and wataching the cars pass. He seemed a bit desperate but I figured out that he simply was tired and a quiet person anyway.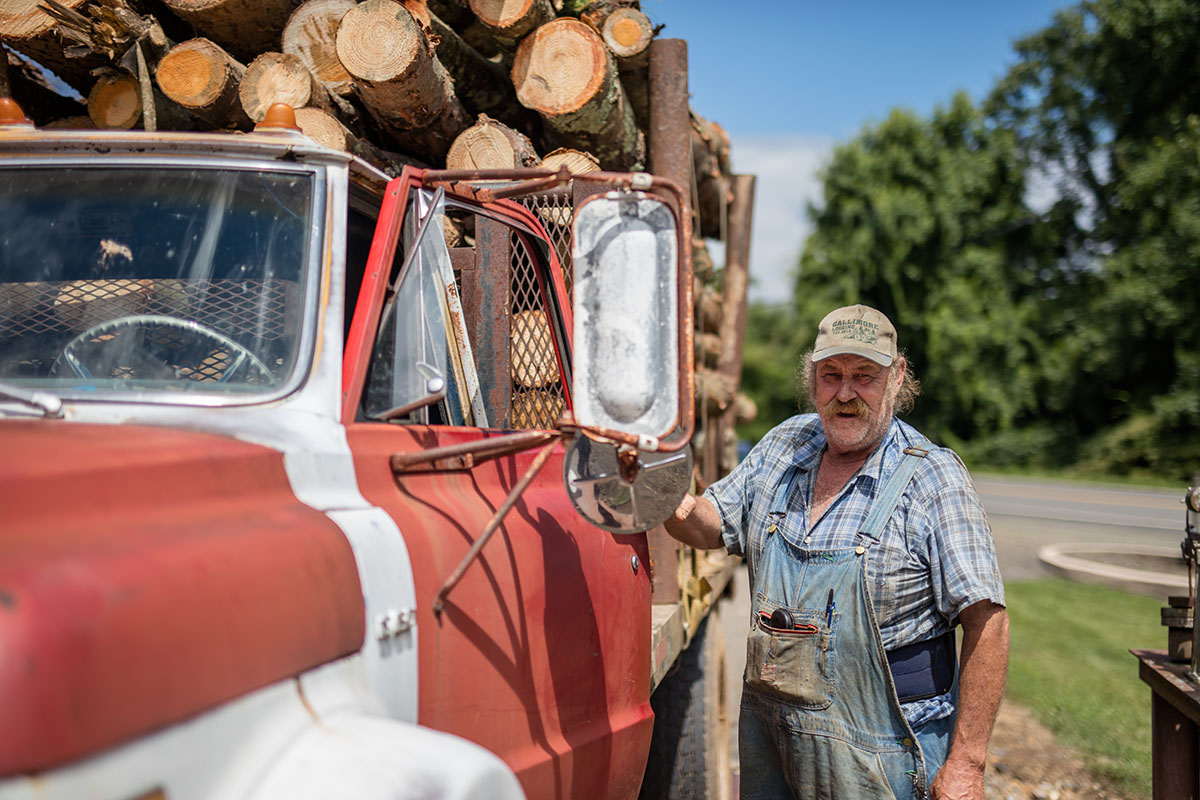 Bob, Blue Ridge Mountains, North Carolina
I met Bob somewhere along my way in the Blue Ridge Mountains. He was unloading wood from his truck. He's been drving this truck for over 40 years and he told me how to keep it running. "It's very important to check on the oil quiet often because it tends to leak a bit. Well, I guess it's nothing that's not gonna happen to me at some point, right? We're all getting older, buddy."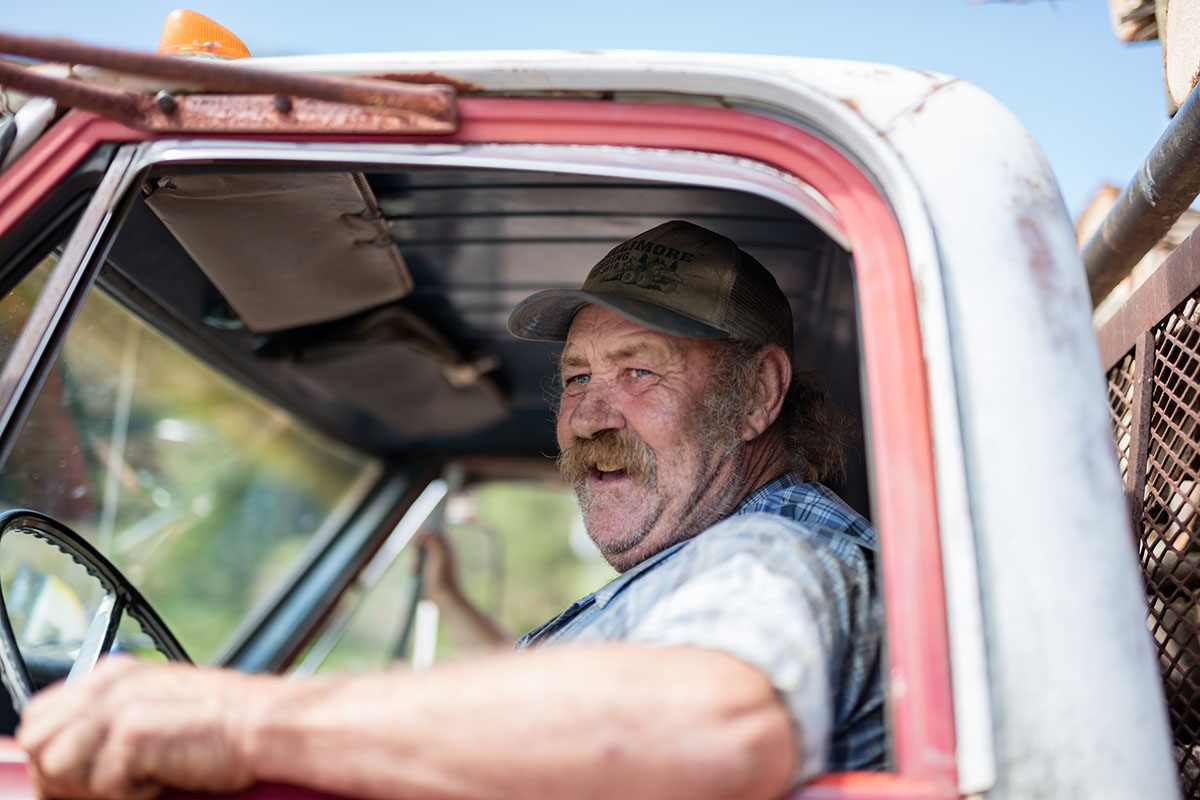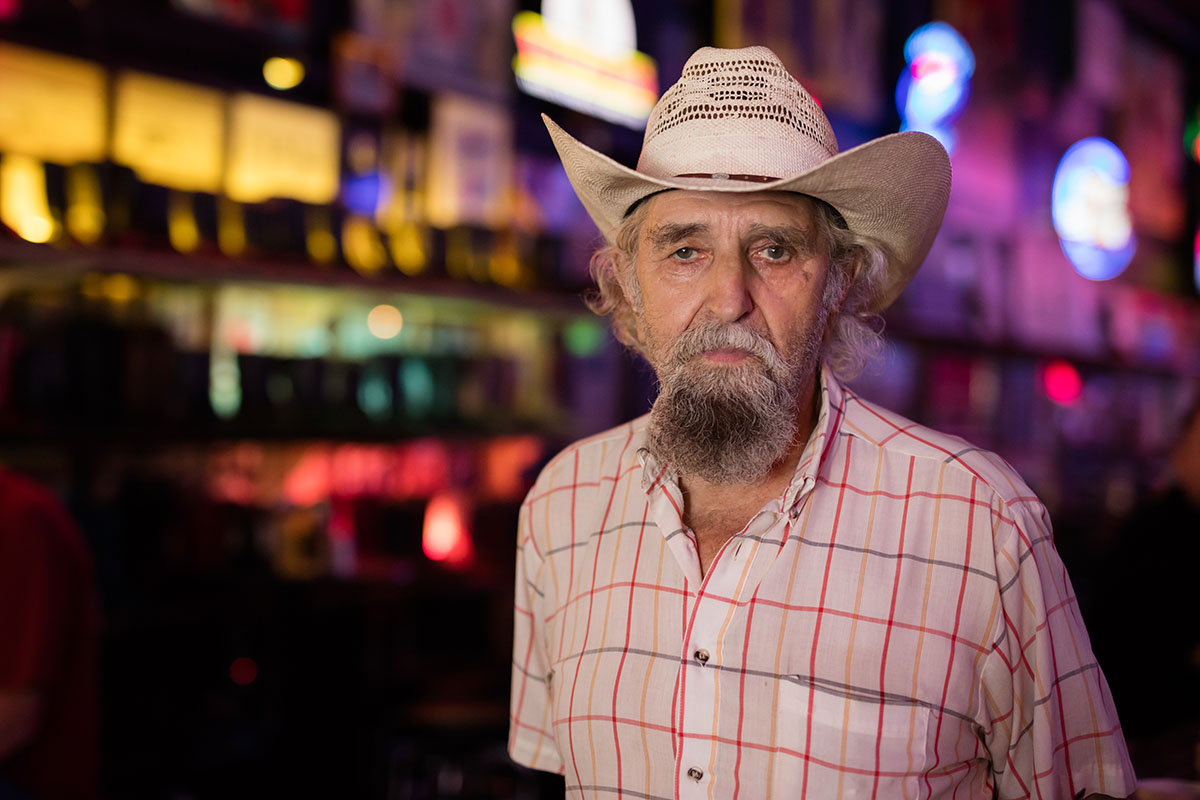 John Wise, Nashville, Tennessee
I met John in Robert's Western World, a honky tonk bar on the Nashville Broadway. We had a chat about this and that and when I asked him to take a photo of him he accidentally spilled his coffee. His hands are a bit shaky due to a stroke he had a couple of years ago. He wouldn't let me buy him a new coffee because he said he already had too much coffee anyway. A very nice man and a real life cowboy!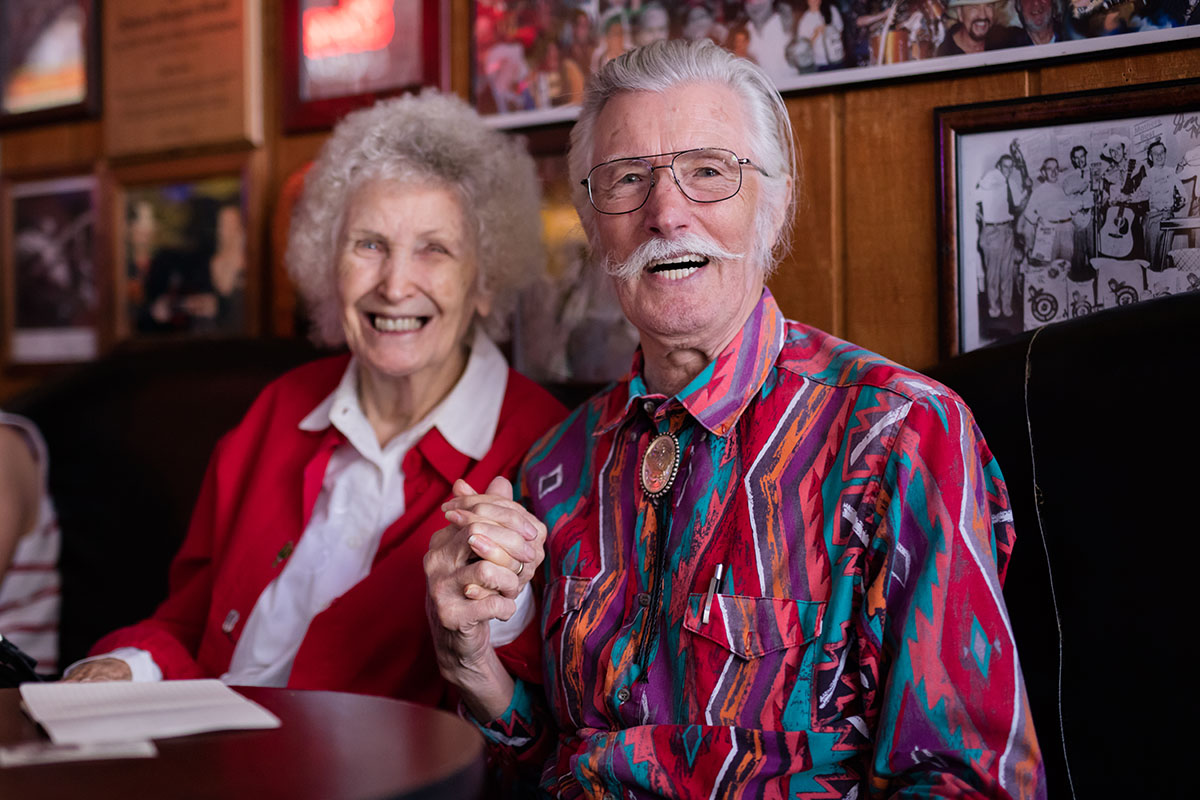 John & Lois Shepherd, Nashville, Tennessee

John is a living country legend. He's been playing on the Nashville broadway for more than 40 years. I had the pleasure to see him in Robert's Western World and he played one of my favorite Hank Williams songs: "Hey good lookin' ". In the early years of his career he played shows together with his wife Lois. She's not on the stage anymore but she's always around supporting him like she did all her life since they got married. John's biggest hit was probably the song "If you got the time, we got the beer" for Miller Beers.
Bonnie, Harriman, Tennessee
I met her when I did a u-turn on the highway because the building looked really interesting. "Bonny & Clyde Antiques and Collectibles" said the sign and I was wondering what kind of people I would meet inside. From the outside I could see a lot of confederations flags in all kinds of makes - stickers, real flags, prints on number plates... Being inside was weird at first but after a while we started to chat. Straight away it started out with "the flag" as a topic and how different their country got since Obama is president. A real ice breaker was the fact that they sold a book that was written in German but they didn't have a clou what it was about so I had to translate it. It was a religious kids story from about 1890. When I left Bonnie gave me a bird houseas a present that she made! Politically we're really not on the same page but I enjoyed the experience to meet you anyway - thanks guys!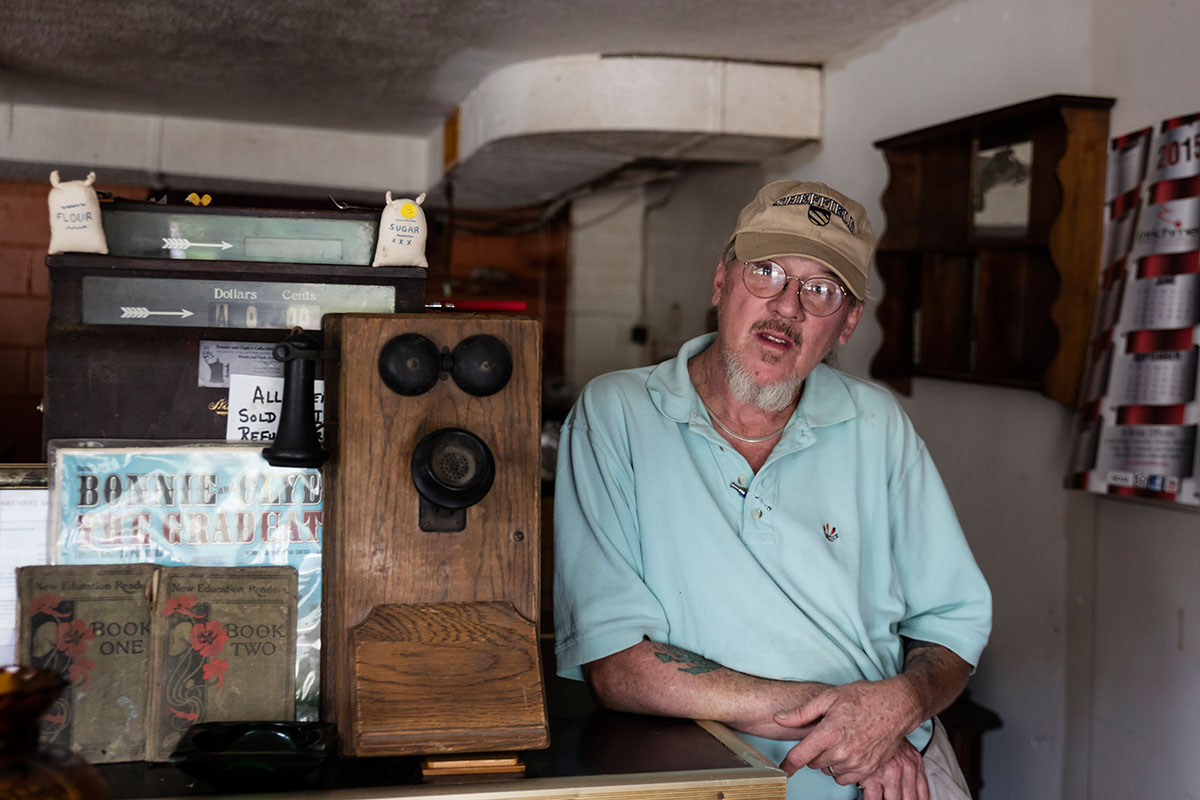 Clyde, Harriman, Tennessee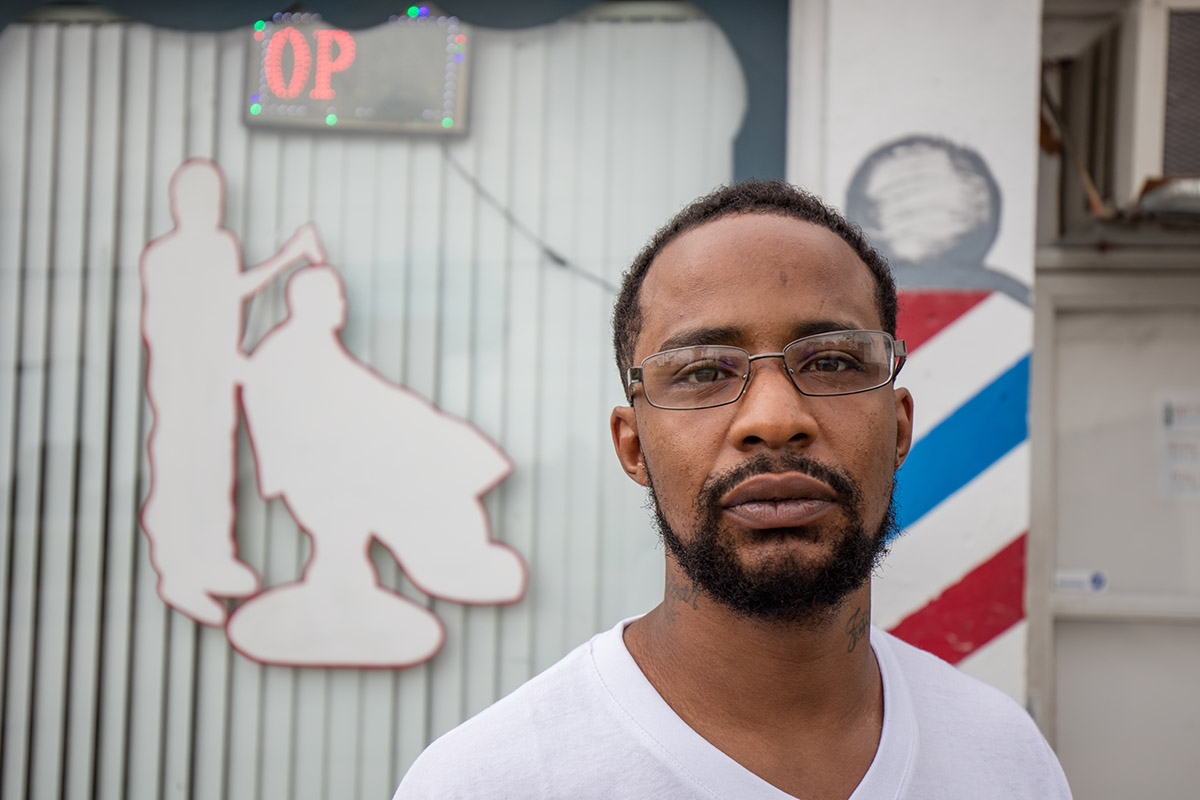 Greg, Danville, Virgina
Greg is a young man who was raised by his grandmother. He didn't tell me why his real parents couldn't take care of him. In his younger years he had lots of trouble with the police until one day he almost got into a real mess. He believes in the power of god more than anything else. The fact that he could build up his own business and start a family is a matter of god's mercy he told me.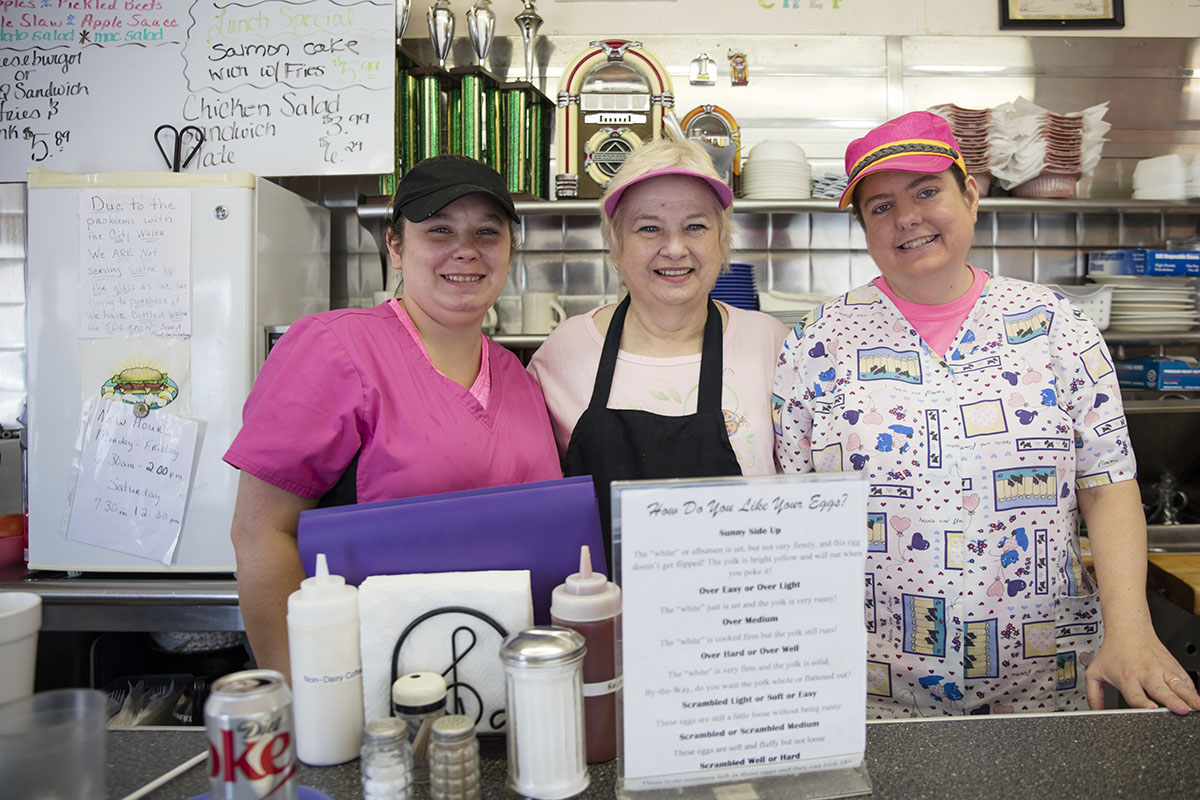 Little Chef Diner, Danville, Virgina
I had the best breakfast on my whole trip in this little place. This tiny diner place is a simple trailer from the 50's. It's a place where all kinds of people meet - old and young ones, black and white ones - everybody goes here. The girls thought it was really funny that I'm German but that I actually sound Australian. I just went to their Facebook site the other day and found out that this place closed a few days after I have been there. It really almost broke my heart but it also made me happy at the same time that I had the chance to go here before they shut down. Thank you so much for a great meal, a great conversation and some good laughs girls. I'll keep that amazing memory for the rest of my life.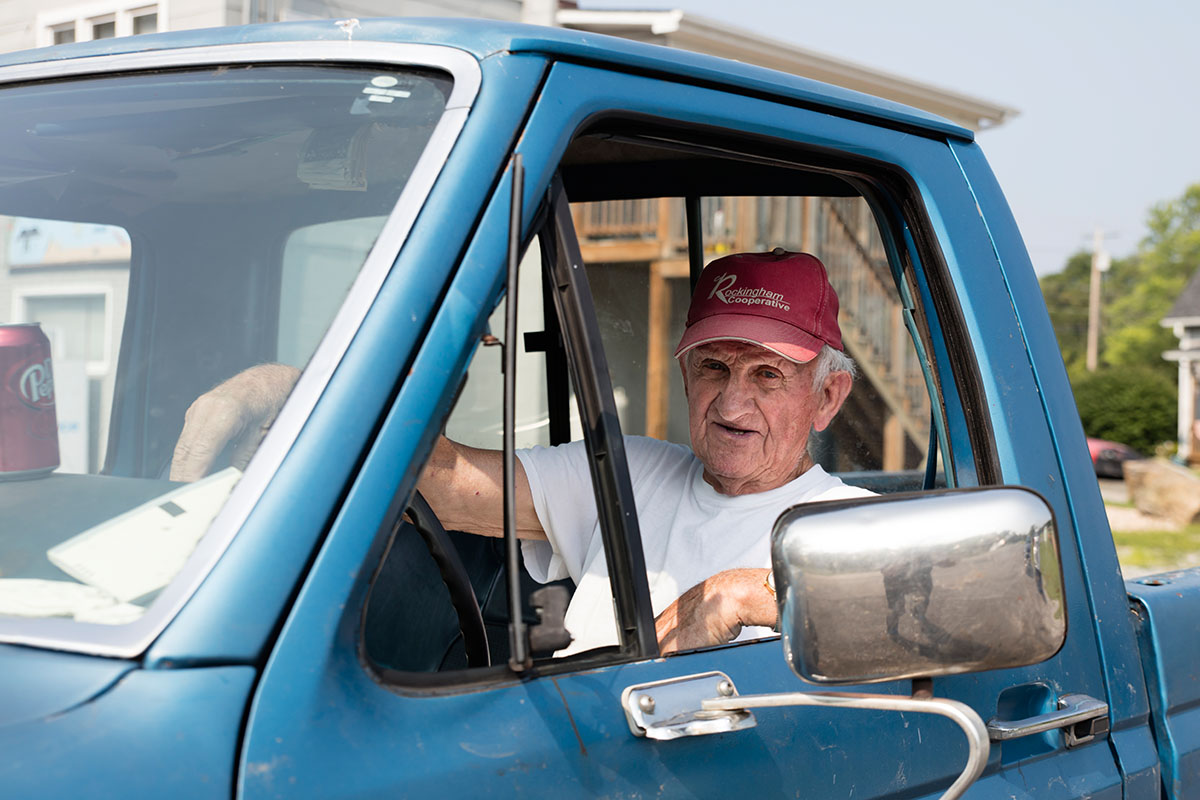 Unknown guy, North Carolina
He had one of those really cool Ford 150 trucks. Most of the old guys use them for farm work these days and he was one of them. Folks like him won't retire until they're not able to work anymore.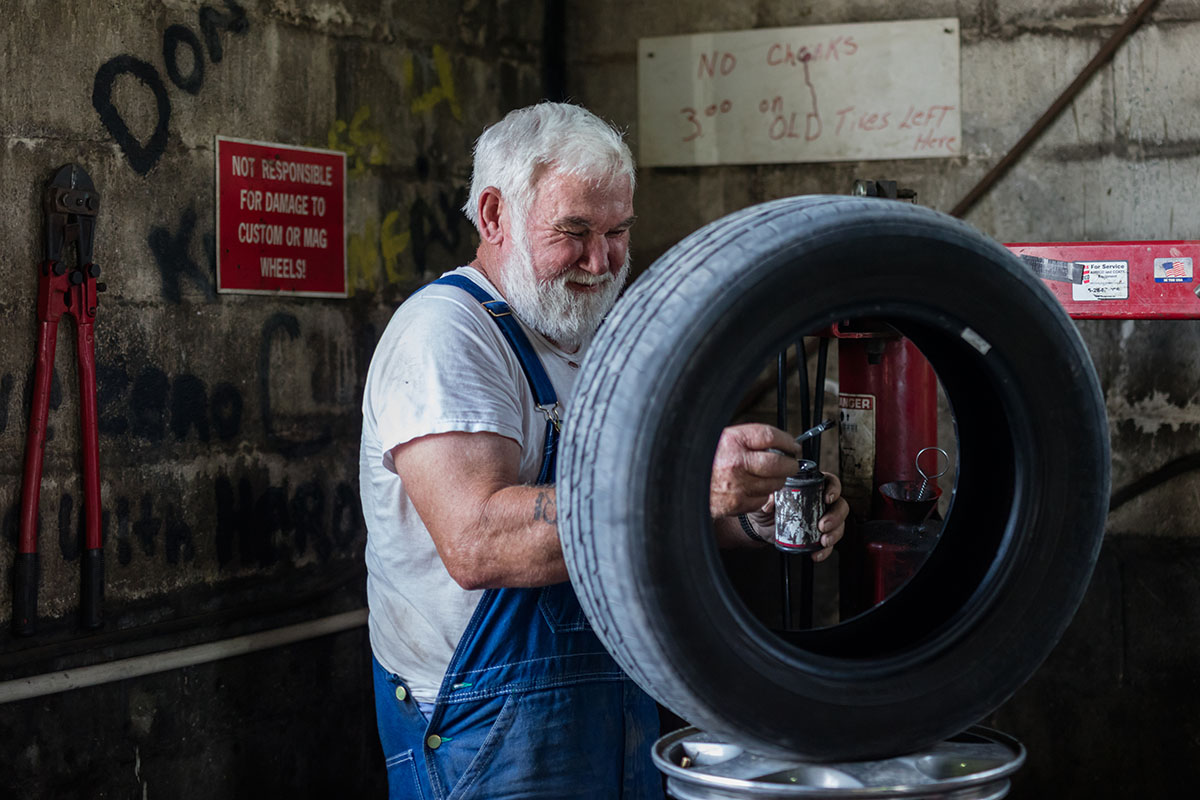 Dee, Sparta, Tennessee

Dee's tire care in Sparta, Tennessee is a place that specialized on used car tires. I really don't have a clou why poeple need so many tires in the States but no matter where you go in the south you will always find heaps of tire shops. Dee has been in the tire business since forever in when it comes down to getting your ones fixed he is the big deal in Sparta. I never met someone being so passionate about something that he has done all his life. Thanks for a really inspiring experience, Dee!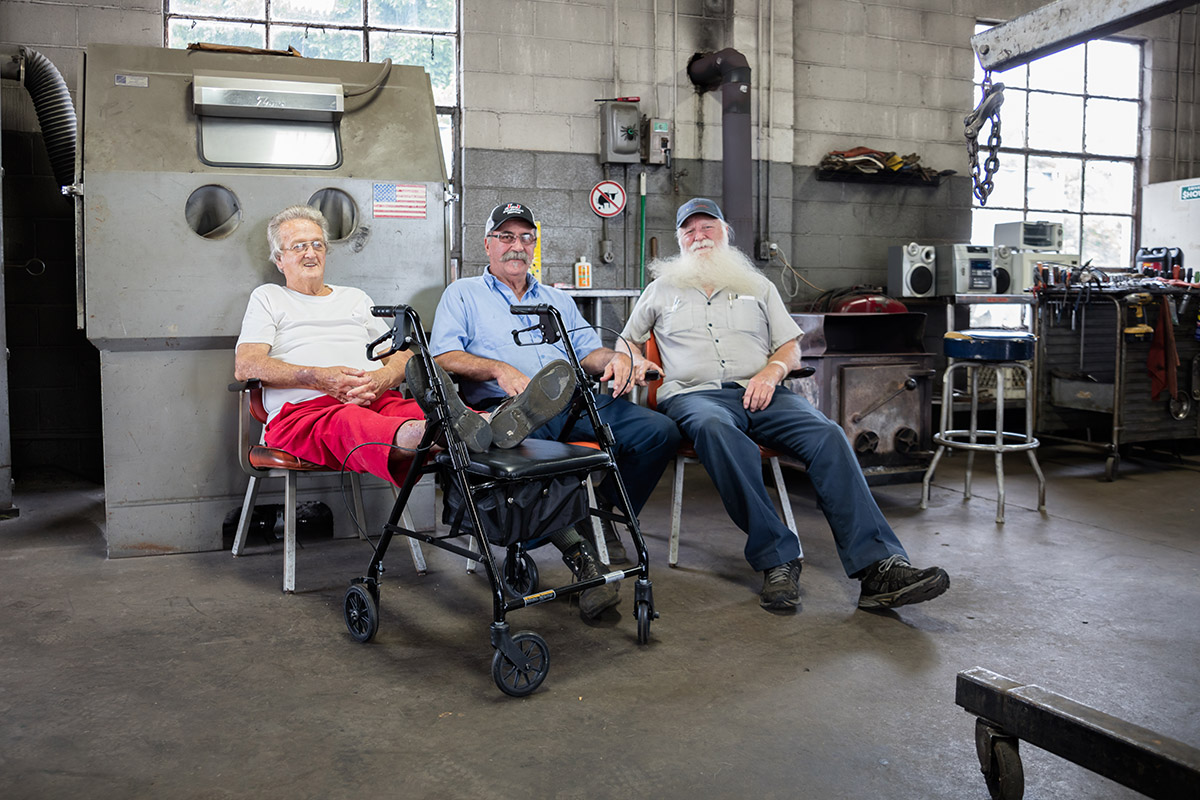 Danville Radiator Works, Danville, Virgina
I was driving through Danville, Virgina trying to find a decent diner place. I stopped at DRW to check it out because it looked interesting to me. The boss of the business (middle) showed my a picture with his granddad and his father standing in the exact same place where we were having our chat. He introduced me to his crew and finally he send me next door to the "Little Chef Diner" – a tiny diner inside a trailer that truly carries the spirit if the 50's. Thanks guys for sending me there – it was the most authentic food I had on the wohle entire trip.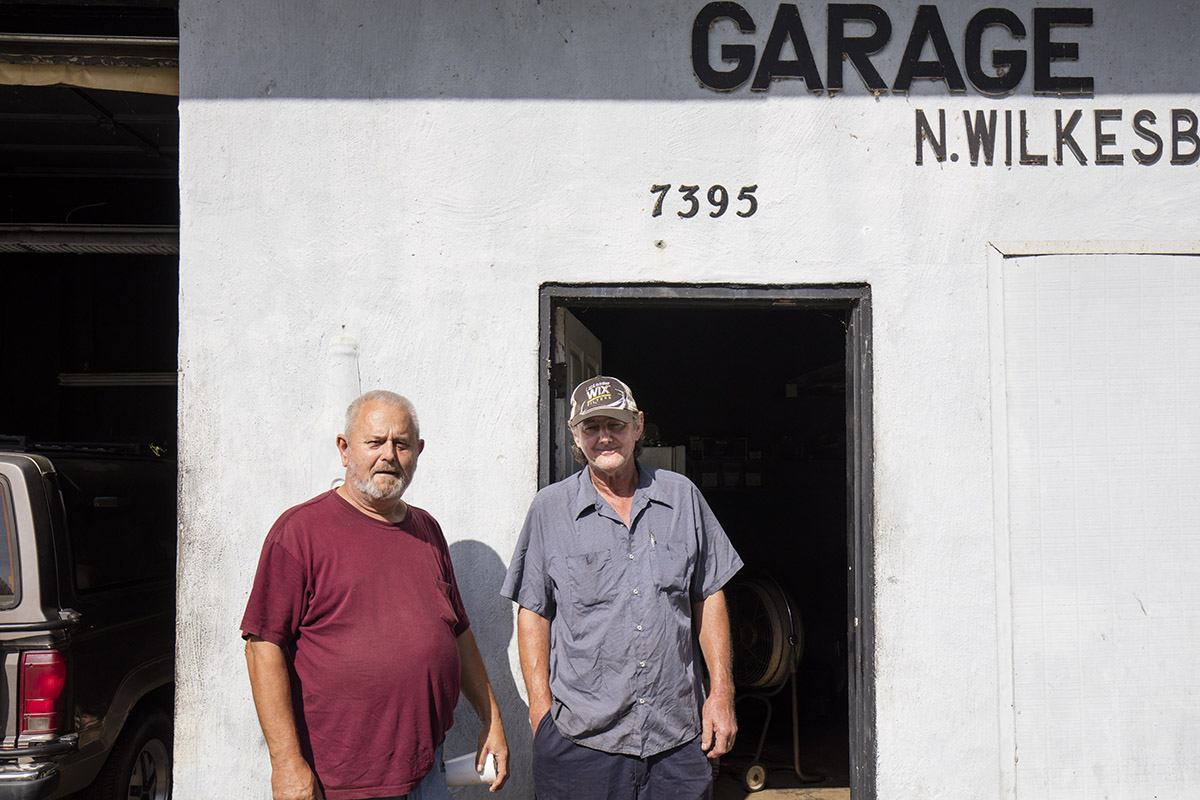 Garage, Wilkesboro, North Carolina
When I got to Wilkesboro the first time I came to visit the great "Merlefest". It's a festival that is all about Bluegrass music and that was initiated by Doc Watson. When I stopped at this place it wasn't quiet so easy to start a conversation until I told them that I have been here before to visit the festival. It seems to me that the whole south is somehow connected through music and old cars. Wait, beer and BBQ is a big part, too. "Alright then, take your picture if you are sure that it won't break your camera".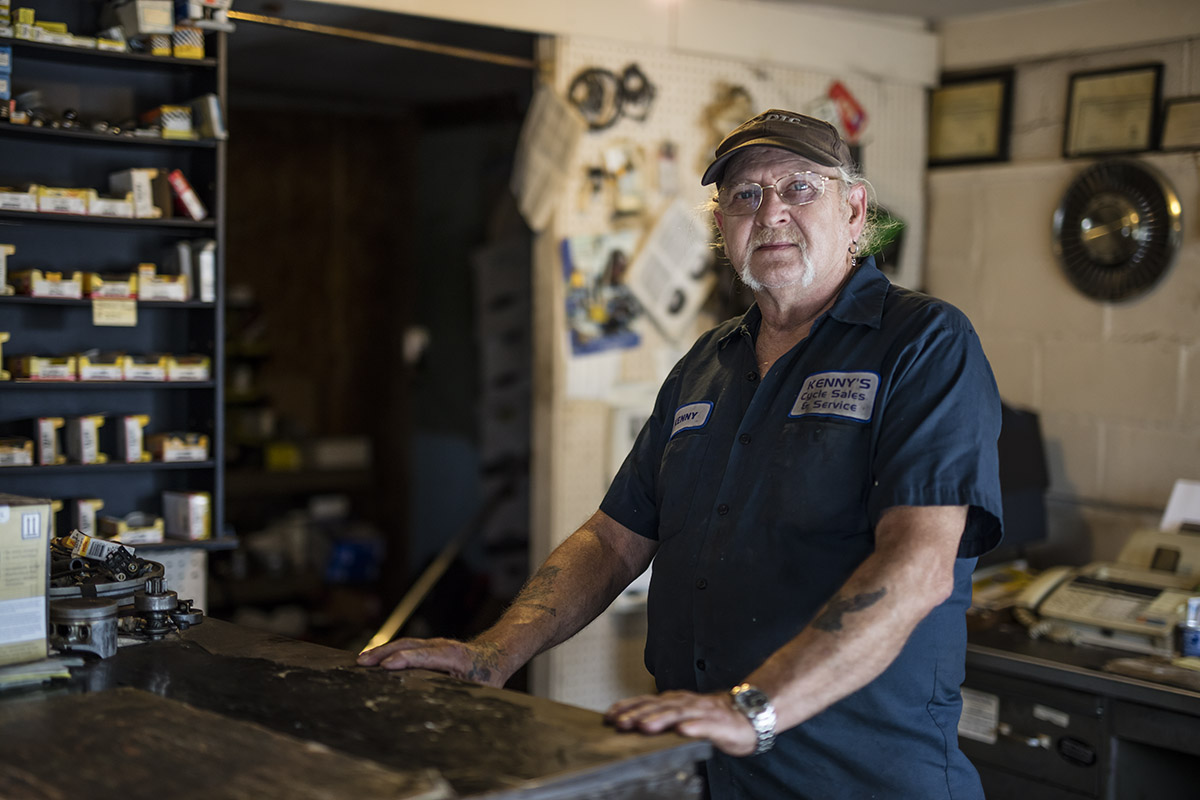 Kenny, Tennessee
Kenny had a real cool place located in a very old fomer, gas station. He is fixing all kinds of things that have an engine and take people from A to B. Lawn mowers, motor bikes, cars... whatever it is - as long as it runs on gas he's the man to fix it. Currently he's restoring a Ford Mustang that he had for along time. He wouldn't wanna show it to me until the project is finished. I guess I won't ever be able to see it but I'm sure it's going to be a real beauty.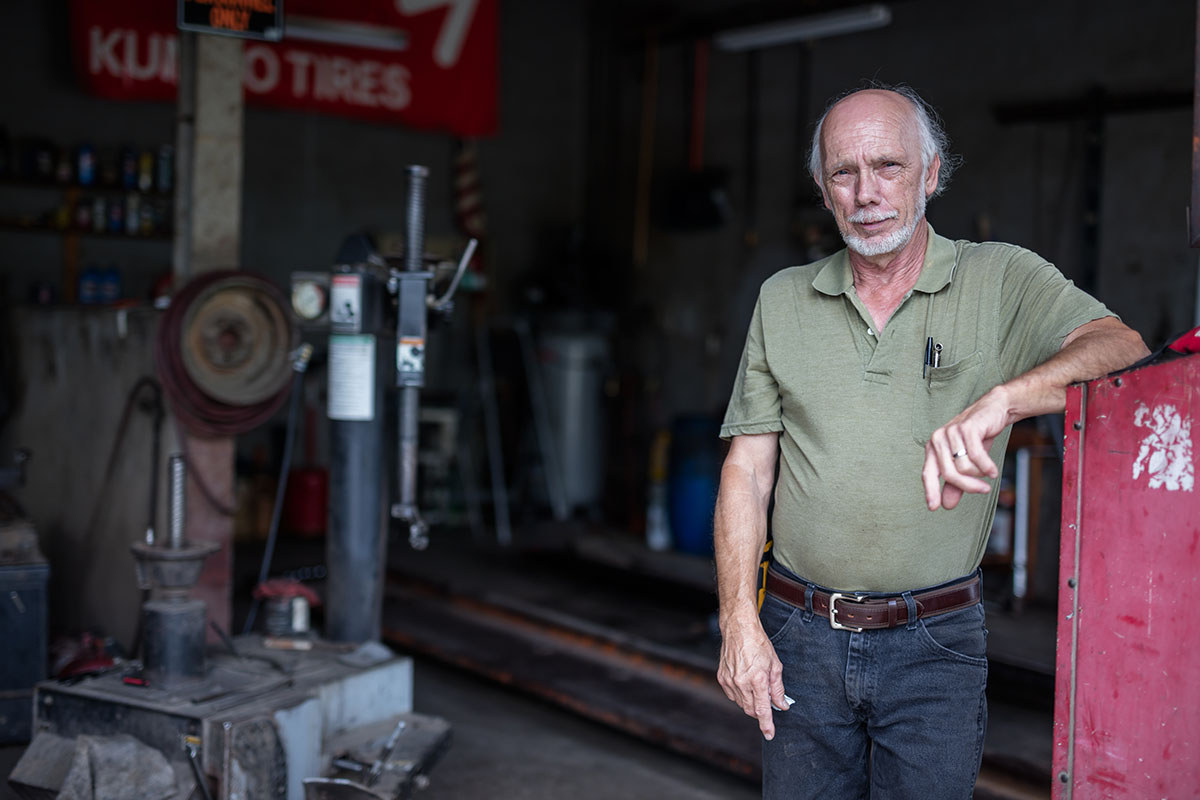 Jay, North Carolina
He was about to close his garage when I stopped. I really kind man and as most other man I met very focused on vintage cars. He showed me his muscle car that he kept in the back of the garage. More than 600 horse powers and an engine as loud as an AC/DC concert.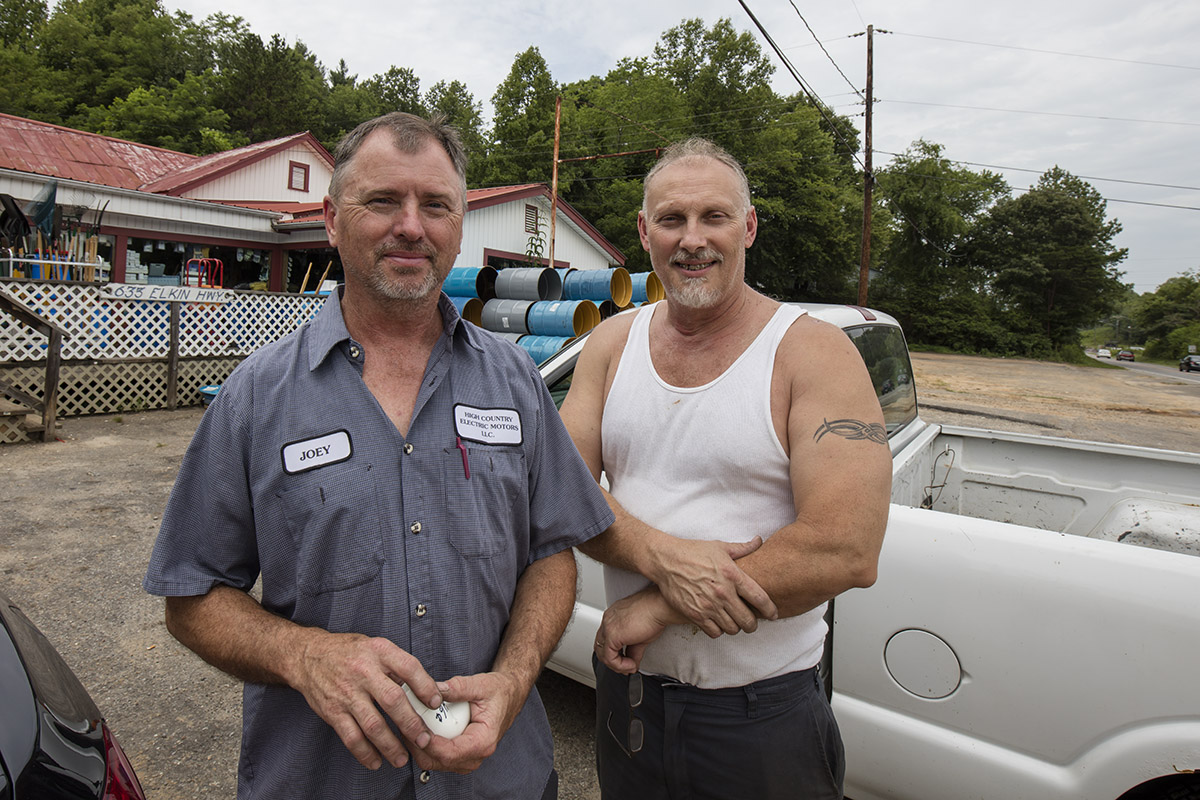 Wilkesboro, North Carolina
I stopped exactly at this place last year to take a photo of the bill board of the shop "Frank's Tools". Last year it said: "God bless the working man - and woman". This year it said "There's no shame in saving money". These two guys just came out of the shop and we had a nice chat about bluegrass music and where to go for good concert in the evening.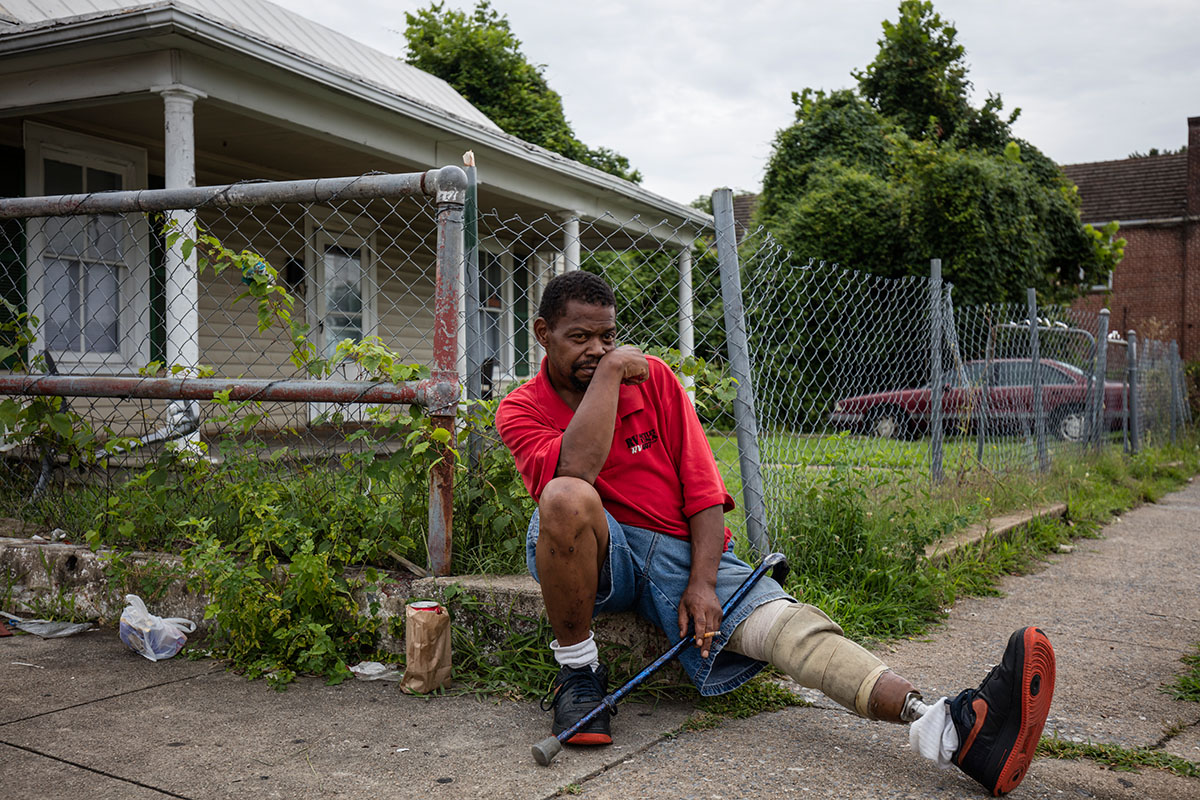 Michael, Danville, Virgina
I was about to take a shot of a run down super supermarket in Danville, Virgina when this guy asked me "what are you doin' here?".
Me: "I'm taking photos of this supermarket".
Him: "Why?"
Me: " 'Cause I think it's beautiful. I'm from Germany, we don't have stuff like this at home."
Him: "So you're traveling through the country taking shot of super markets?".
Me: "No, I'm taking shot of everything I like."
Him: "So why don't cha take a picture of me, man?"
Me: "Sure, if you're ok with that I'm happy to take a shot of you."
Him: "Wait, let me get ready."
Me: "Alright, here we go – click, click, click. By the way, what's you're name? I'm Robert, nice to meet you."
Him: "I'm, uhm, I'm Micheal, just like Micheal Jackson. Whooohoooo."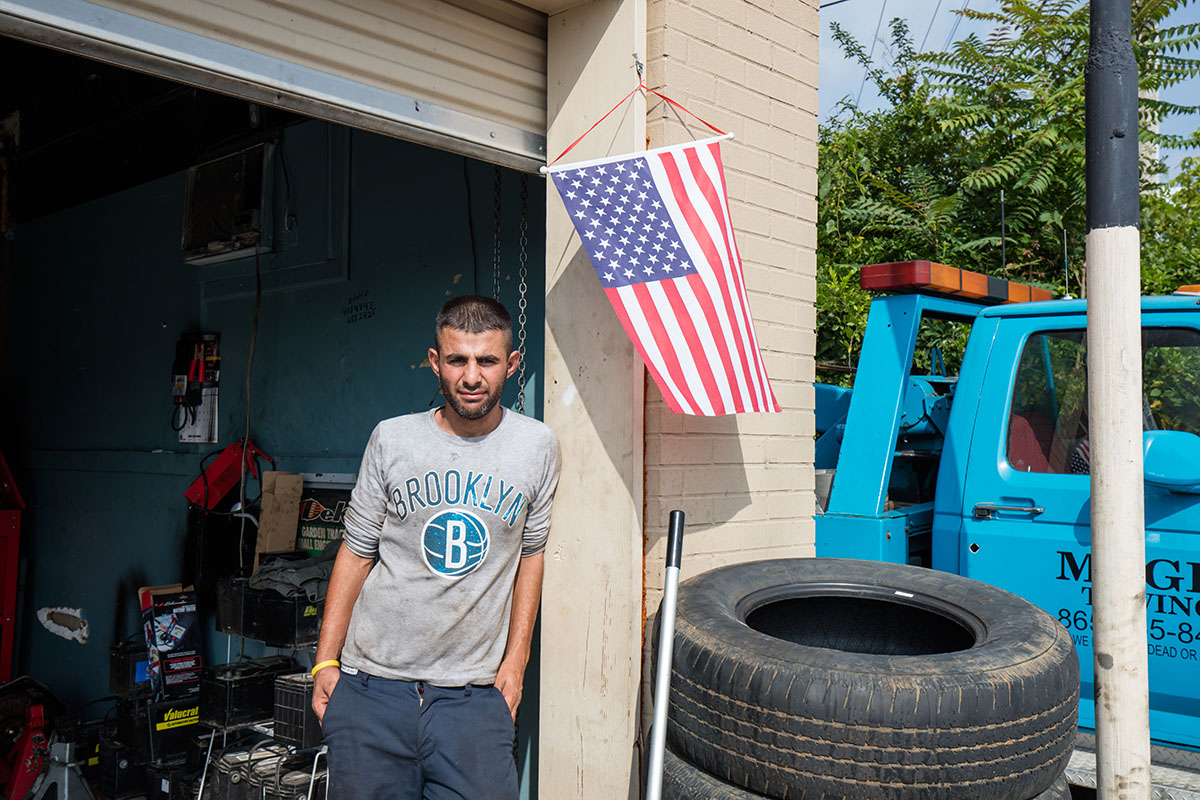 Omar, Knoxville. Tennessee
He was sweeping the floor when I came along. He came 3 years ago from Syria and is now working in this place until he get's a better opportunity to make some money. A very nice guy and he was really interested in photography as well. If had to give away a job I would hire him straight away - that was the cleanest garage I have seen in the south.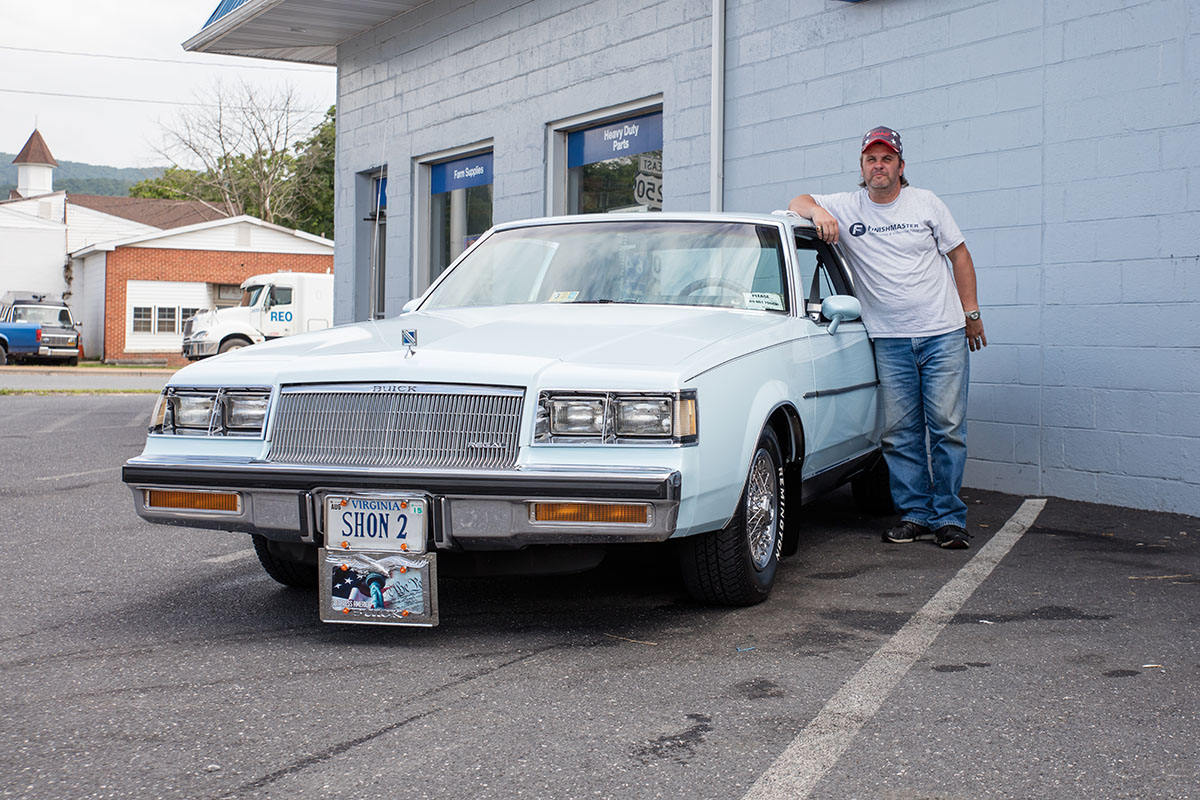 Llyle, Waynesboro, Virgina
I met Llyle when I went to "Napa Auto Parts" to get myself one of these merchandising baseball caps. Lyle was sitting next to his 1984 Buick on a camping chair and it seemed that he had nothing alse to do other than admiring his own car. When I asked him if I could take a shot of him he said: "no, just the car". When I returned that I think he and the car belong together 'cause they are a unit he agreed that he has to be in the picture. He nodded and started posing. But most important: he had to put a cloth on the hardtop first to make sure the paint won't get stained.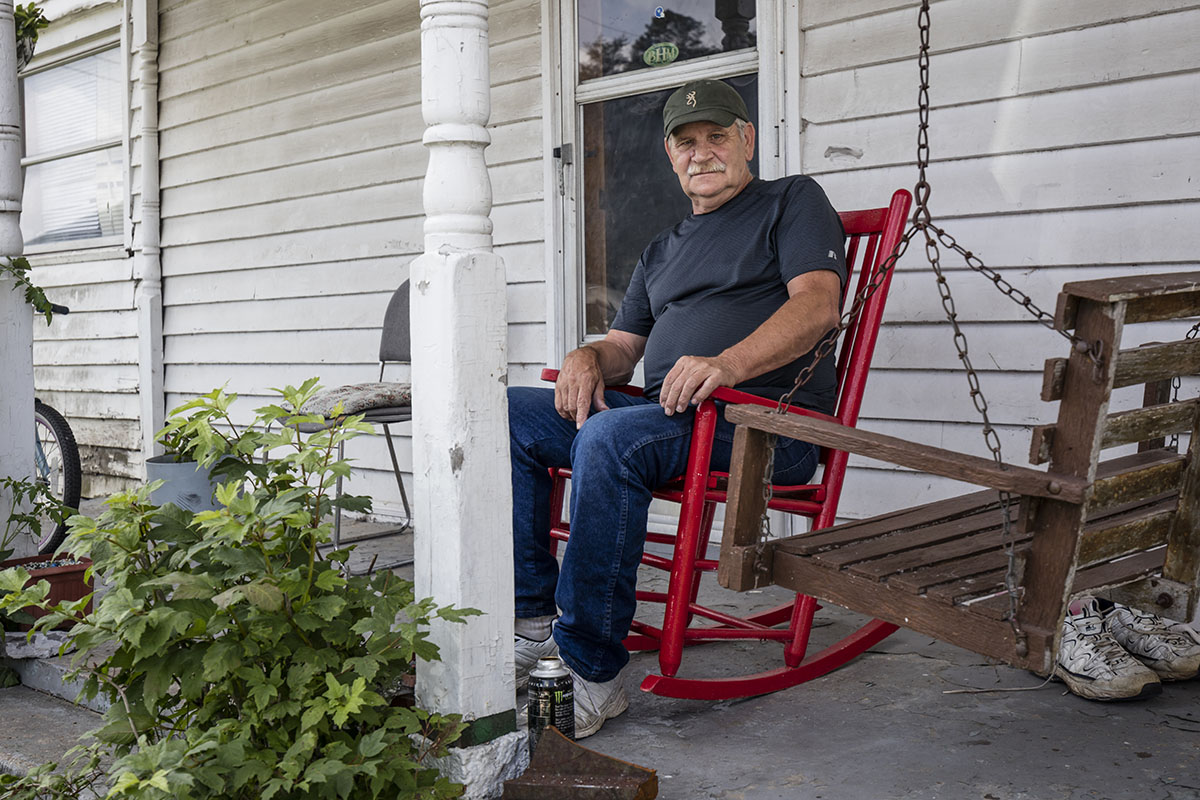 Dean, A.P. Carter Highway, Virgina
I stopped because there was an old abandoned train trailer standing on the side of the road. I took some shots and noticed that guy watching me from the other side of the road in his rocking chair. I walked up to him and I asked him if he had ever been up on the Carter Family Fold - the place where the Carter Family had their little store, where they lived and where the whole Carter Family legend started. He told me that he had been there many times and that he had met June Carter Cash and Johnny Cash from time to time when they where in the neighborhood. Johnny Cash had a house up in the mountain and he came here quiet often to calm down and find some piece.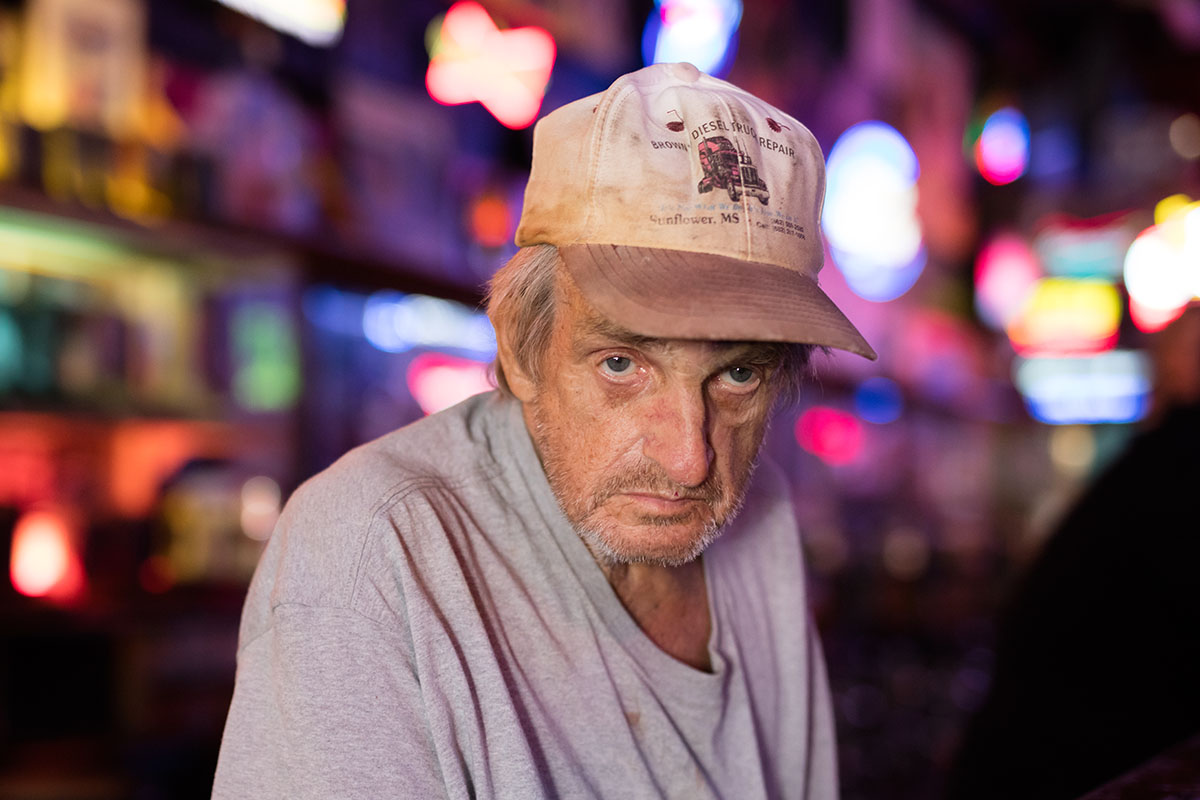 Unkown guy, Nashville, Tennessee

I met this guy in a honky tonk bar in Nashville. I tried to have a little chat with him when I got myself a beer. I guess it's kind of an understatement to call him not the biggest small talk talent. When I asked him if I can take a shot of him it seemed to me that he didn't really give a shit. Anyway, cheers to the cool guy that I had a beer with in a honky tonk bar in Nashville – it was fun to meet you.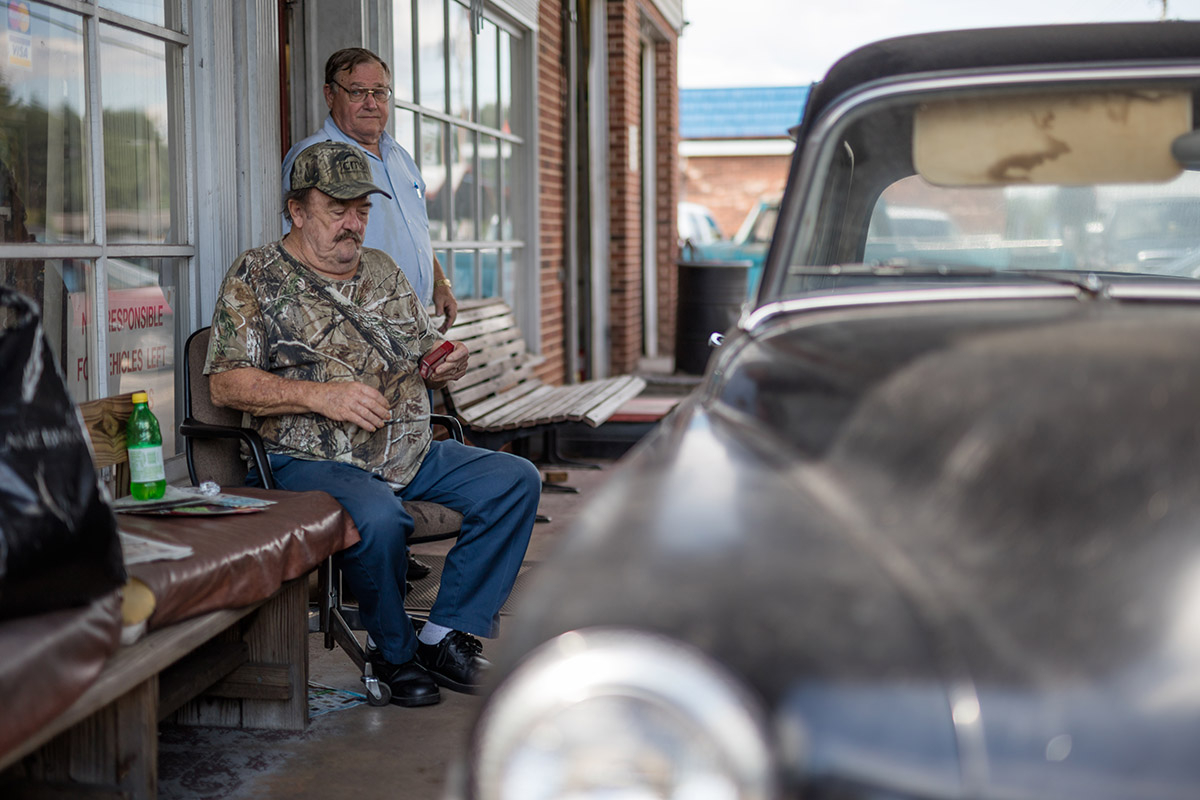 Garage, North Carolina

I stopped here because I saw that wonderful 1957 Pointiac standing there. It's always easy to get in a conversation in the south when you start out with something about cars. The guy in the back was the boss. He had a good sense of humor and he was making fun of me in good way. I guess he thought I was a bit of a jerk, and you know what - maybe he's right. The other guy really only hung out and smoked cigarettes: "I can't stay at home with my wife all day so I rather hang out with my buddies and smoke some cigarettes."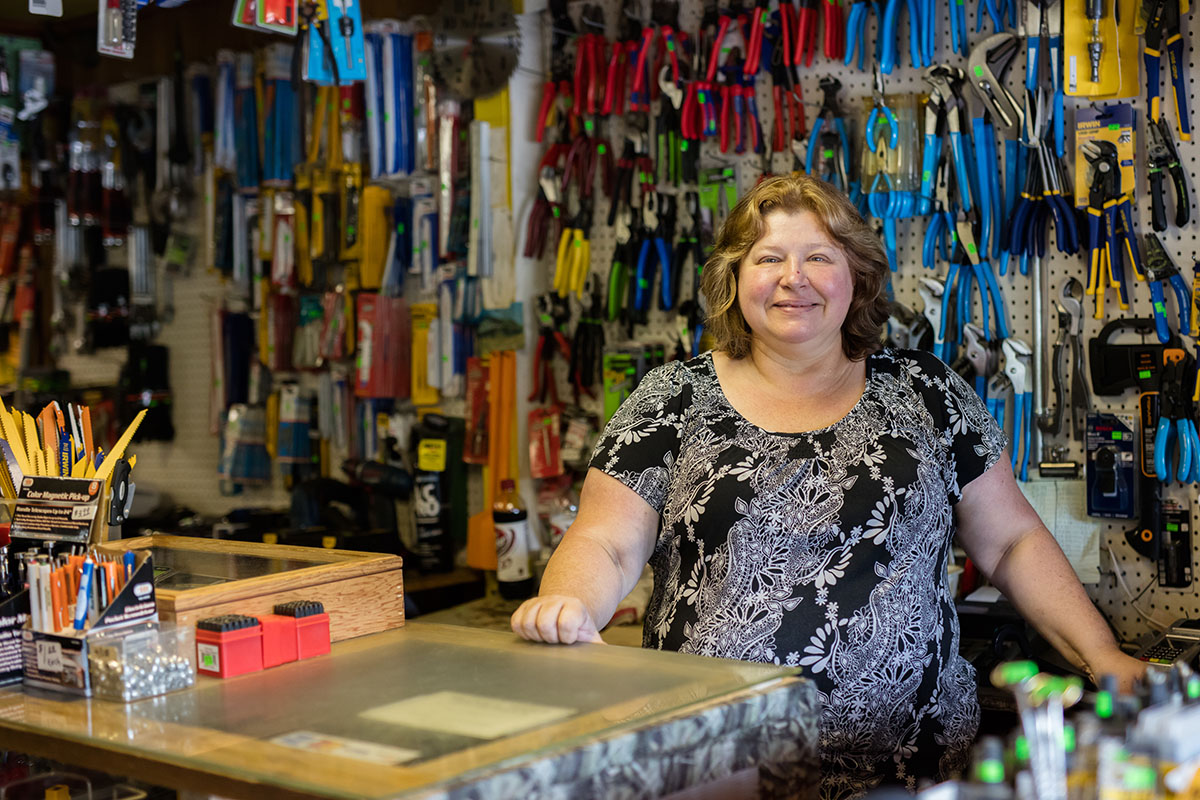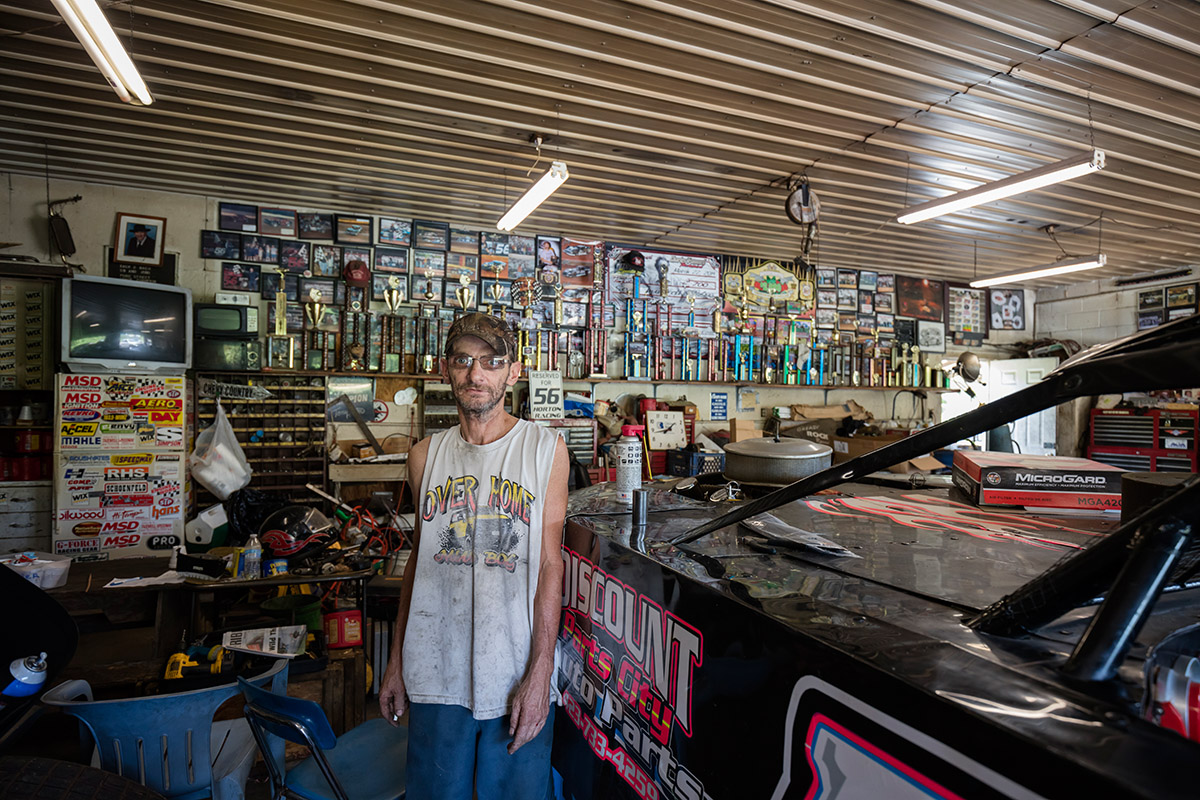 Tony, Sneedville, Tennessee
I drove past Tony Horton's garage "Greasy Rock Auto" in Sneedville and I had the feeling I should stop. Tony Horton is a Dirt Race celebrity in the south. The guy in the picture is also named Tony and one of the mechanics at Greasy Rock Auto. He showed me "THE CAR" and all the trophies Tony won in the past years. I really liked the guys and I gave them my "Nappa Auto Parts" cap that I got in Waynesboro. We had a good chat and the youngest of the mechanics was blown away by the fact that there are roads in Germany where you're allowed to go as fast as your car goes.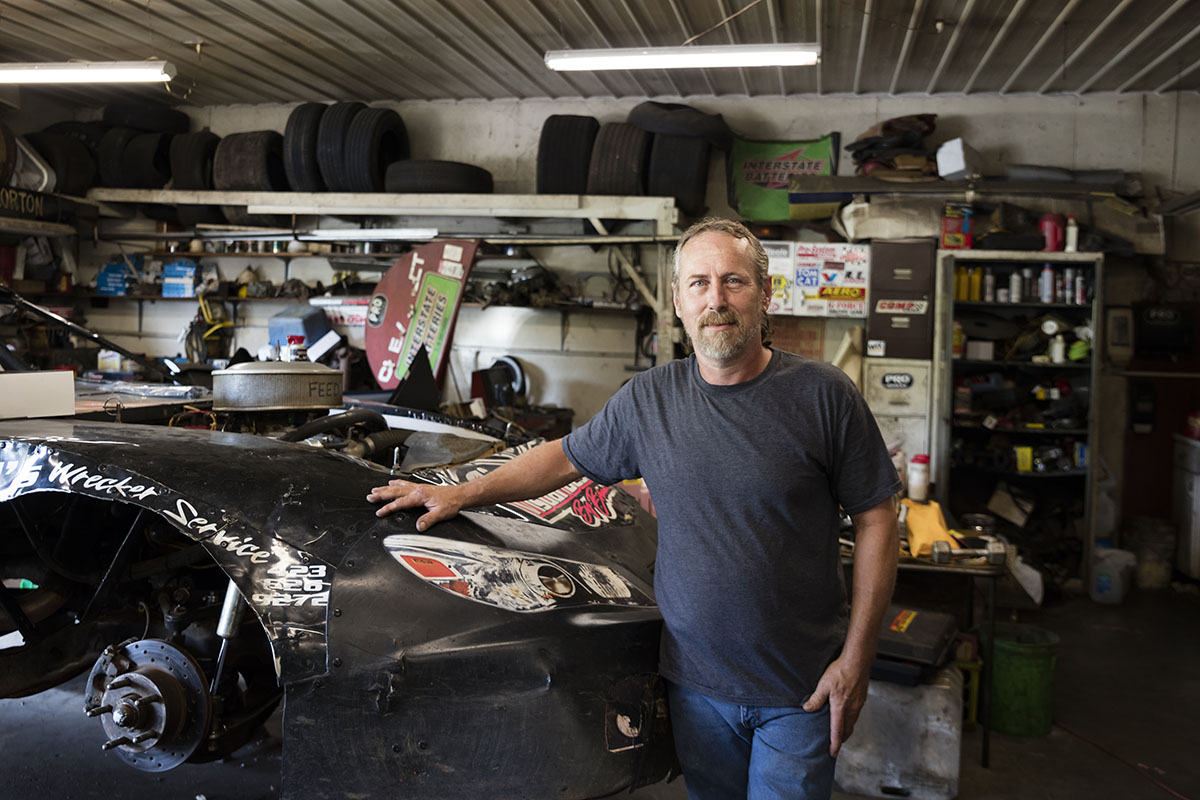 Greasy Rock Auto, Sneedville, Tennessee
This is Tony Horton, the famous dirt car race driver. When I first popped in he wasn't there so stayed a bit longer because I really wanted to meet him. His cars are always numbered with the 56. It seems that it is his lucky number due to the numbers of trophies that he had won. I even got a card with his signature!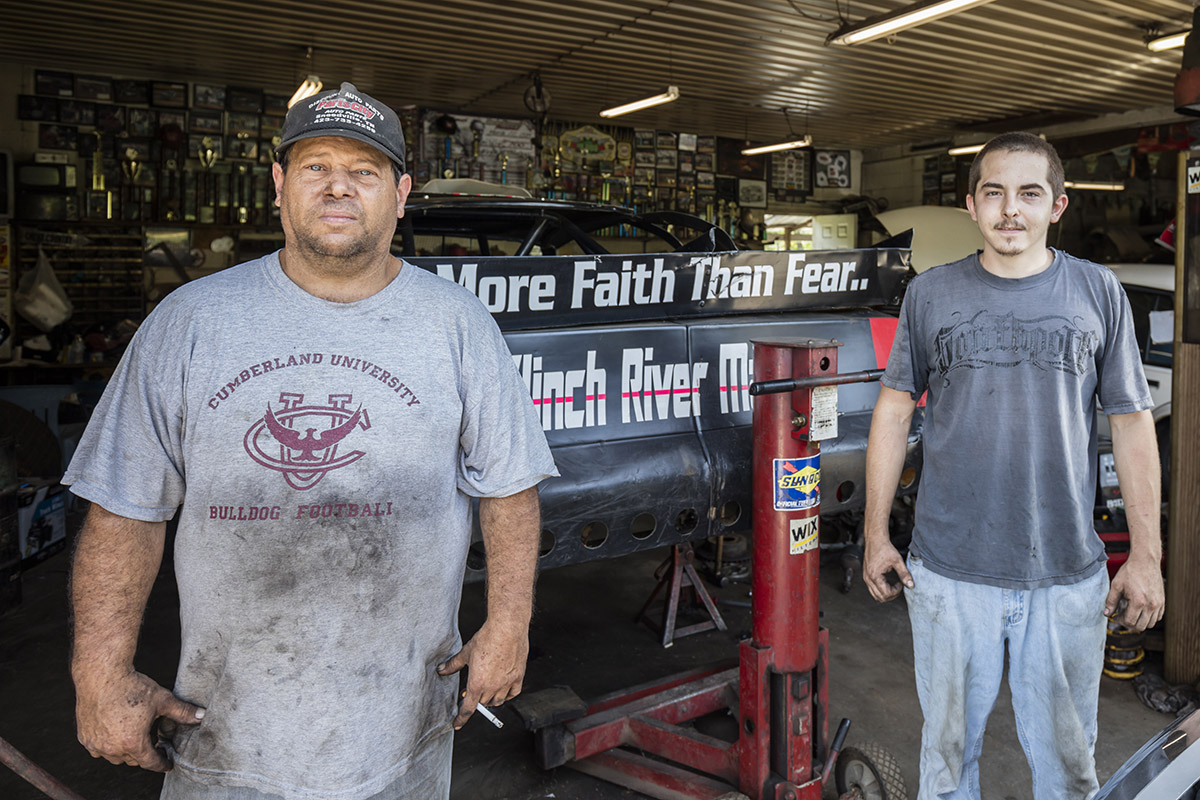 The crew at "Greasy Rock Auto" Sneedville, Tennesee
These guys are the main crew of Tony Horton's garage. Tony is a real big deal in the dirt car race scene and the guys are more than proud to work for him. In the background you can see his car with more than 600hp and several trophies. More faith than fear!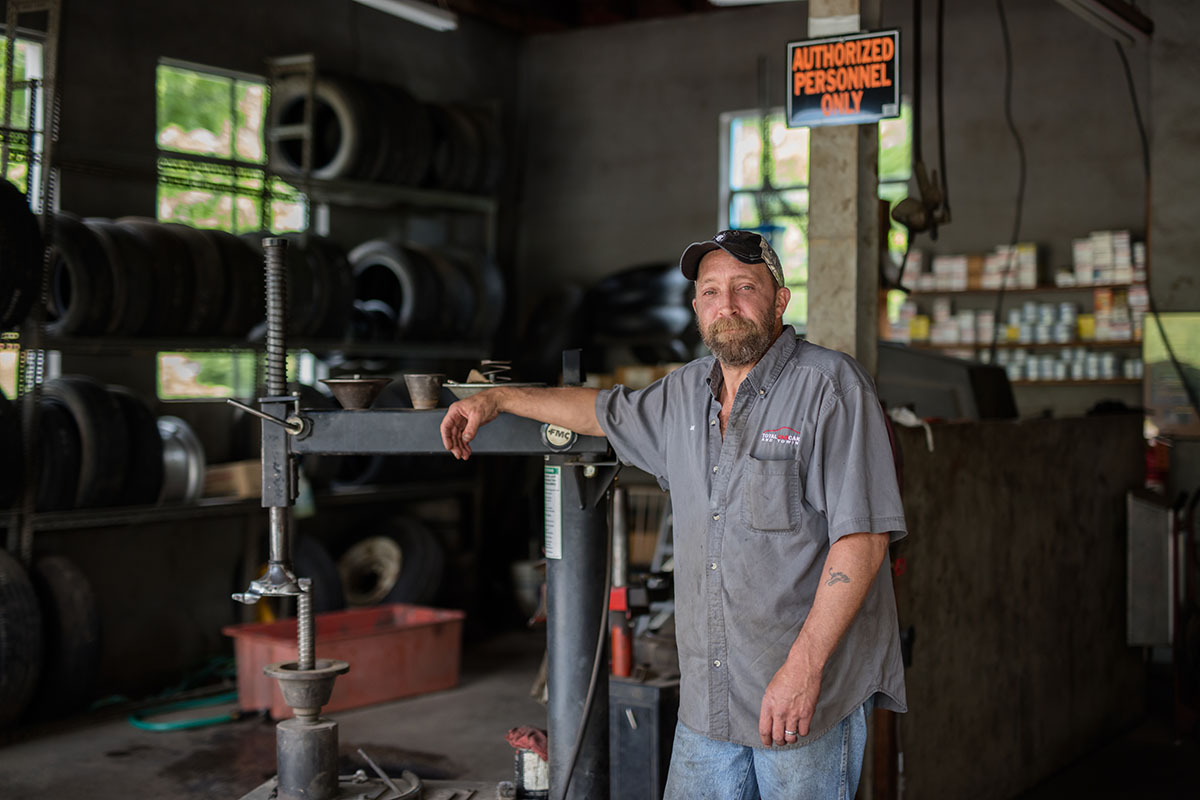 Franky, North Carolina
Franky wasn't much of a talker. If you would ask him a question he wouldn't go any further than a simple yes or no. He wasn't unfriendly or something, really not at all, he just doesn't enjoy a chat as much as other people do.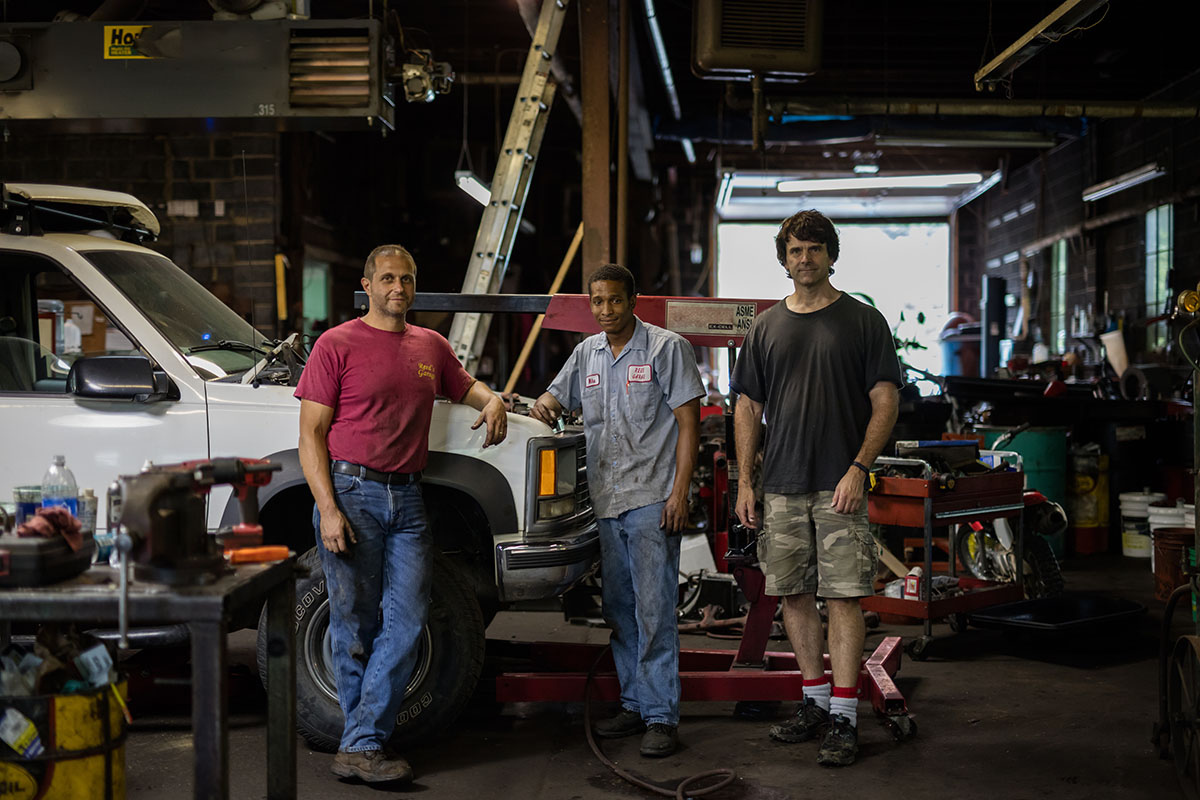 Reed's Garage, Blue Ridge Mountains, Virgina
I stopped because they had so many oldtimers in the yard and I just wanted to have a look. Then I saw this really nice bike - a vintage Kawasaki Z900 in mint condition. I walked in and the three guys were really busy working on the engine. When I asked if could take a picture two of them really didn't want to but the boss said - come on guys, he came all the way from Germany. I sent them the picture and got a really nice reply.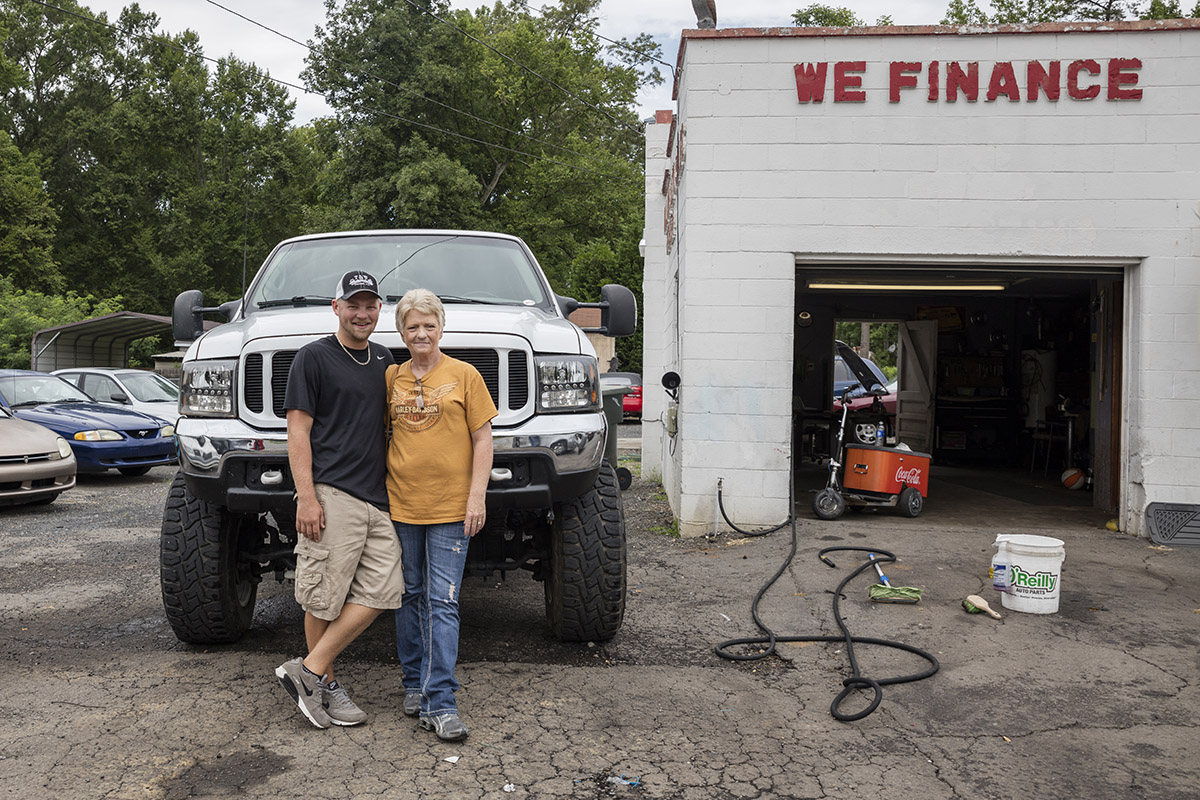 Garage, North Carolina
This guy took over the place from his grand dad. I really liked the small red vehicle in the back. It was something that he built himself based on a kids scooter. It goes pretty fast and is loud as hell but it is loads of fun. His truck has something like a 8 liter diesel engine and it was his one and only - almost ... His mum is of course the most important thing and he made sure that she's in the picture!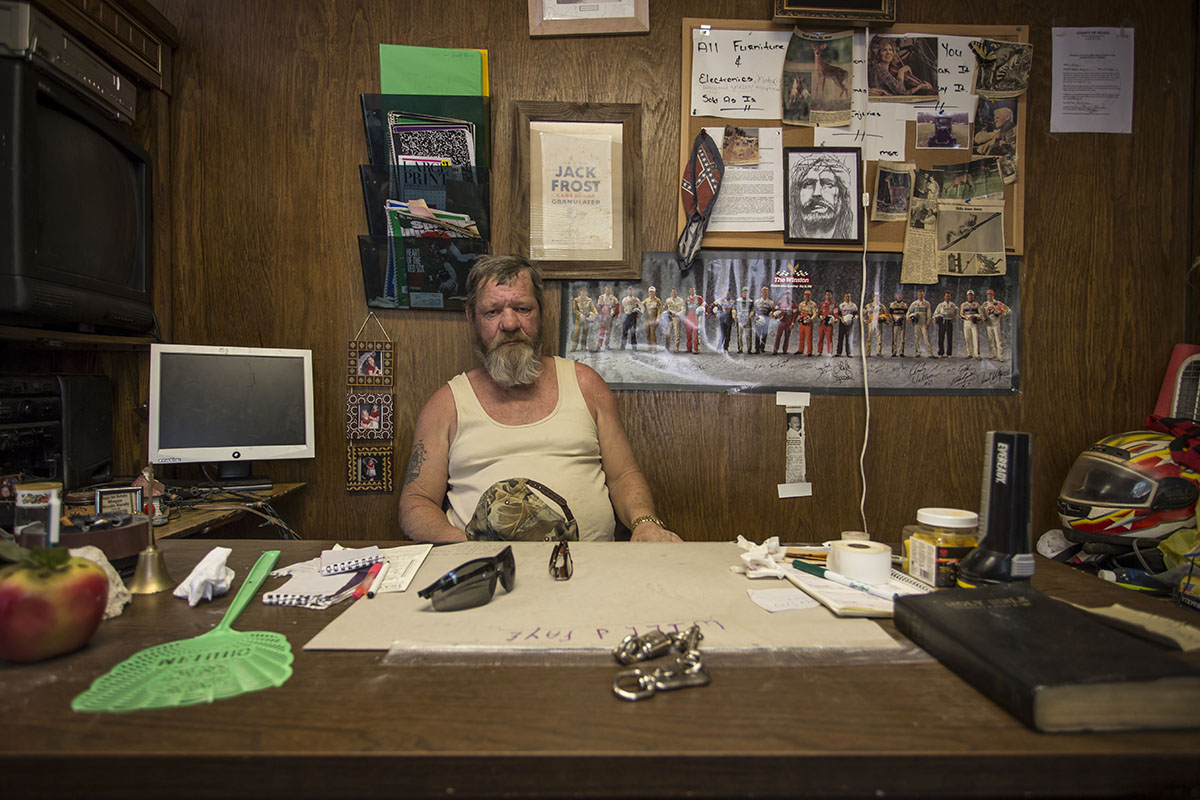 William's Antique Store, Roaring River, North Carolina
William asked me to send him some print of the photos that I took of him and his friends and so we had write down his address. This is him sitting in his office. The computer wasn't working but he didn't have an e-mail anyway. It took me a while but sent him the pictures and I hope he likes them. Another great beer that stands for southern hospitality and friendlyness – thanks William.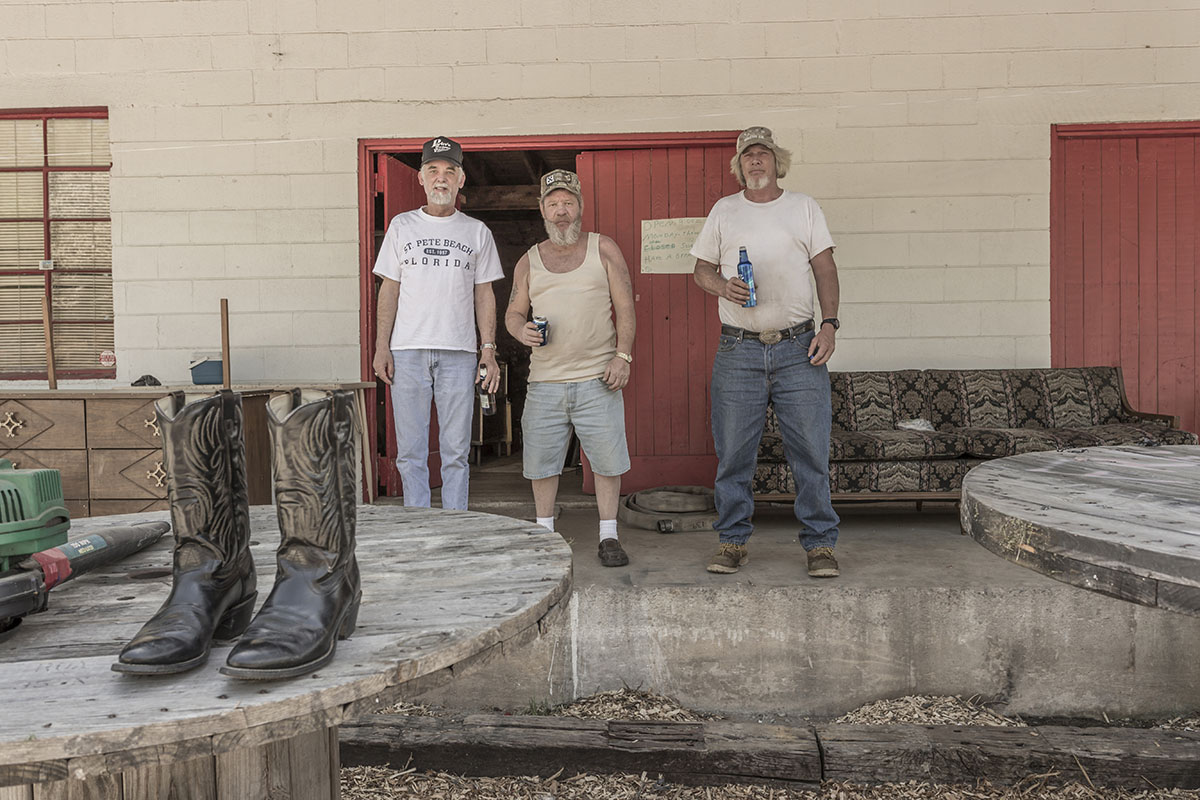 William's Antique Store, Roaring River, North Carolina

Straight at the road William is running an antique store that's located in an old warehouse. The inside is full of old things that for sure have great stories to tell. It seems that there's not too much traffic in his day that's why he's hanging out on the porch a lot with his buddies. One thing I can tell you - it doesn't get more American than the boots in this picture ... Cheers!